5 Ways You're Sabotaging Your LinkedIn Profile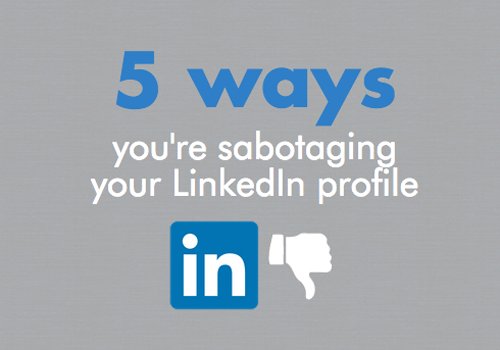 By today's standards, if a job seeker doesn't have a LinkedIn profile, they might as well not exist. But with upwards of 380 million users worldwide, the odds of a resume crossing the desk (or inbox) of a hiring manager, HR professional or recruiter) are quite slim.
Just like every social media platform, however, LinkedIn has its own established etiquette, one that candidates must learn in order to successfully utilize this tool. However, even though LinkedIn has now been around for more than a decade, there are still frequent faux pas that more savvy users come across all the time.
In order to help candidates clean up their act and increase their chances of being noticed in a favorable way, Eleesha Martin, G&A Partners' senior recruiting specialist, recently sat down with us to share the five ways today's professionals are actually sabotaging their own efforts when it comes to LinkedIn.
Pick a (professional) profile pic.
"A common mistake I see is not having a profile picture at all, or using a picture that is more personal than professional. No one wants to connect with someone that might not be real (the thought being real people will care enough to choose a profile photo). Using a less-than-professional or questionable photo (they're out there, trust me) isn't much better. These kinds of photos send the message that you don't care about your image, or don't take your career seriously - two things you definitely don't want a prospective employer or business contact to be thinking when they're reviewing your profile. People should think of their profile picture as their digital first impression, and make every effort to come across as professional, capable and trustworthy."
Spare me the spam.
"Who's in your LinkedIn network really does matter. Your connections should be strategic and focused on individuals with whom you share commonality - those in the same industry or like-minded individuals that have similar career aspirations/education. Whatever you do, you should definitely not just start connecting with random people. Your network of 3,000 is only impressive or useful if it's full of 3,000 quality connections."
Don't leave anything blank.
"Your LinkedIn profile is your chance to "toot your own horn" and show others your experience, achievements, and interests - not filling it in all the way is just doing yourself a disservice. Recruiters, in particular, like to see what you've done and are currently doing, and whether you have the skills or relevant experience they're looking for."
When in doubt, don't post.
"I think understanding who the audience and content curation are things many people struggle with on LinkedIn. You should avoid posting content that isn't relevant or professional - just remember: what's appropriate for Facebook, Twitter or Instagram is not always appropriate for LinkedIn. Your LinkedIn posts should always be targeted to your audience (your connections) and provide information that you think your connections will find valuable, or content that's relevant to the industry you are in or desire to be in."
Be kind - reply.
"This one may seem like common sense, but you should always try to respond to any InMails or messages you receive. If someone takes the time to send you a message, it's common courtesy to respond even if you aren't interested. And who knows? That person may become a valuable connection when/if you do decide to look for another job."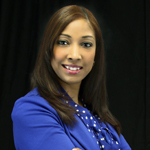 Eleesha Martin is a self-described "recruiting matchmaker," specializing in matching the right talent with the right job opportunity. With more than 15 years of recruiting experience, Eleesha now utilizes her sharp eye for talent and top-notch LinkedIn skills to bring in the best candidates as the Senior Recruiting Specialist for G&A Partners.