Diversity, equity, and inclusion (DEI) programs are permanently flipping the script in America's workplaces.
Though promoting diversity in the workplace isn't new to organizations, recent cultural and societal movements, and the Great Resignation, are prompting companies—large and small—to take their DEI initiatives to the next level. This includes implementing changes designed to promote inclusiveness and empower employees who face barriers in the workplace due to ingrained conscious or unconscious biases.
The entirety of 2020 stands out as the collective defining moment when companies took a hard look at their DEI programs and vowed to do better. However, two years later, only about 50% of diverse employees feel their day-to-day is free of bias, and 76% of companies have no DEI goals as part of their business strategy, according to Boston Consulting Group (BCG) Executive Perspectives' "Rethink & Broaden Diversity, Equity, And Inclusion to Create a Competitive Advantage Report."
With the Great Resignation still hampering recruiting and retention efforts for many organizations, it's more important than ever to put time and effort into strengthening DEI programs. By focusing on creating an inclusive environment that supports employees from various backgrounds, your company can realize the benefits of diversity in the workplace.
"By applying the same rigor and thoughtfulness as in other critical business functions, employers can ensure a greater return on their DEI investments, including a more engaged workforce and more innovative leadership teams," states Grads of Life's "4 Effective DEI Strategies Business Leaders Should Measure."

Diversity, Equity, and Inclusion: Your Program Needs all Three to Thrive
Developing a successful DEI program starts with defining and understanding each component:
1. Webster's Dictionary defines diversity as "the condition of being defined or composed of various elements."
Applied to DEI: Employees come from different backgrounds and have unique personalities, qualities, and abilities.
2. Equity is defined as "free from bias or favoritism."
Applied to DEI: Applicants and employees with unique qualities and abilities should be treated fairly and access the same opportunities.
3. Inclusion is "the act of including, the state of being included."
Applied to DEI: This means fostering a company culture that celebrates diversity in the workplace.
Some companies unintentionally emphasize achieving diversity goals over creating an equitable and inclusive culture that allows diversity to take root and thrive.
By their very nature, DEI programs should not be exclusive. Instead, they should support the full spectrum of skills and qualities that employees bring to the workplace, including different cultures, races, backgrounds, abilities, genders, generations, and cognitive and educational levels.
Kristi Arcurie, G&A Partners Sr. Strategic HR Advisor, said a company could be diverse and not treat people fairly. Likewise, a company can be diverse and not have a culture of belonging. "Ultimately, we want to create a work environment for our employees where they are all treated fairly and respectfully and have access to opportunities and resources so they can contribute to the organization's success."

Free download: Five Ways to Champion Diversity in Your Workplace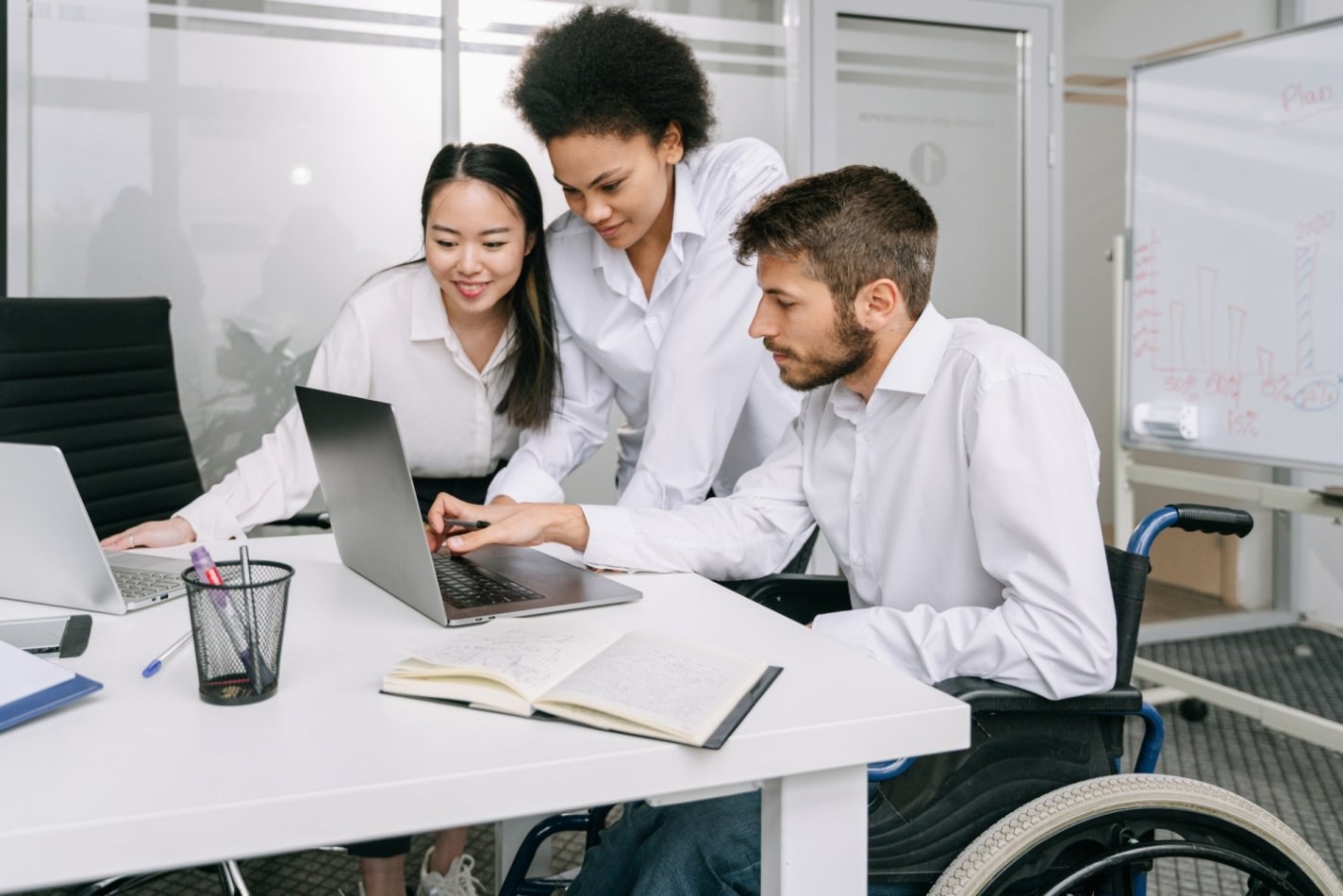 The Benefits of Championing Diversity in the Workplace
For small to mid-sized companies, the actual or perceived magnitude of change required to implement a successful DEI program can feel overwhelming. But with guidance, such a program can have an enormous and positive impact across all facets of your business. And in our increasingly competitive and fast-moving globalized economy, companies that fully embrace DEI initiatives will realize the tremendous benefits that a diverse, equitable, and inclusive workforce brings to the table.
DEI Boosts Employee Recruitment and Retention Efforts
Job seekers and employees care about a company's commitment to DEI programs, and they will look for signs that you're making efforts to build and support a diverse workplace.
Boston Consulting Group's report states that 76% of the global workforce believes diversity at work is critical when considering employment. In short, they want employers to put their money where their mouth is when it comes to DEI commitments.
of the global workforce believes diversity at work is critical when considering employment.
"As record numbers of people continue to leave their jobs, companies must consider the ramifications of not following through on DEI," states Momentive's "Data shows that prioritizing DEI may be the key to retaining employees." "It's not enough for an organization to say it values diversity and inclusion; it must prioritize initiatives in meaningful ways, keep DEI promises, and create a culture where employees' contributions are valued."

DEI Drives Innovation and Enhances Decision-Making
Research indicates that cognitively and demographically diverse teams that operate in an inclusive environment are more creative, collaborative, and innovative. They are more likely to develop new ideas and identify and address risks.
Lucy Garcia, a Client Success Manager and diversity and inclusion expert for G&A Partners, says working with people from different backgrounds sharpens the brain and challenges conventional thinking patterns. Diverse teams are more objective and fact-orientated, leading to better decision-making and a competitive edge for your company.

DEI Stimulates Employee Performance
Research shows that if you assemble a group of employees comprised of different races, genders, educational levels, cultures, generations, and backgrounds, those differences spur ideas, debate, and creativity as well as energy, excitement, and a sense of friendly competition that can advance productivity and performance. It's human nature.
"Companies are also waking up to the notion that a more diverse workforce is not just a moral but a business imperative, as firms with a diverse employee base and leadership teams are more profitable," said Rosanna Durruthy, LinkedIn's vice president of global diversity, inclusion and belonging. In the U.S. Chamber of Commerce's "LinkedIn's Head of Diversity on How Economic Opportunity Fuels Business Success," Durruthy said, "When women and people of color contribute more equitably to a more fully employed workforce, they can add trillions to the U.S. GDP [gross domestic product]."

"Companies are also waking up to the notion that a more diverse workforce is not just a moral but a business imperative, as firms with a diverse employee base and leadership teams are more profitable"
— Rosanna Durruthy, LinkedIn's Vice President of Global Diversity, Inclusion and Belonging
DEI Embraces Environmental, Social, and Governance (ESG) Values
The public—and the environmental, social, and governance (ESG) investment community—are increasingly challenging companies to validate their DEI commitments through internal and external actions. They want to know what you are doing to develop a diverse workforce, the steps you are taking to create an inclusive company culture, and how you are supporting underserved communities.
McKinsey & Co.'s report "Diversity wins: How inclusion matters" states that times of crisis—such as various events that have occurred since 2020—drive people to take a hard look at the companies they do business with to see what lies beneath. Businesses that are putting time and effort into DEI efforts and making actual progress are more likely to withstand public scrutiny than those that are not.

DEI Encourages Compliance
Compliance with federal, state, and local laws that mandate equal opportunity practices in all phases of the employment process and throughout the workplace should be standard practice for your company. It also adds regulatory structure to your company's DEI efforts.
If your company has 15 or more employees, you are required to comply with various laws under the Equal Employment Opportunity Commission (EEOC), which prohibit discrimination against a job applicant or an employee based on race, color, religion, sex (including pregnancy, gender identity, and sexual orientation), national origin, age (40 years or older), disability, or genetic information. The laws also make it illegal to retaliate against a person because they complained about discrimination, filed a charge of discrimination, or participated in an employment discrimination investigation or lawsuit.
How G&A Can Help
If you need help creating, revising, or implementing your company's diversity, equity, and inclusion plan, G&A can help. We offer small to mid-sized businesses world-class HR services and a team of experts who can help you navigate sensitive employment issues. Schedule a consultation with one of our knowledgeable business advisors to learn more.