Tips for Managing a Widespread Workforce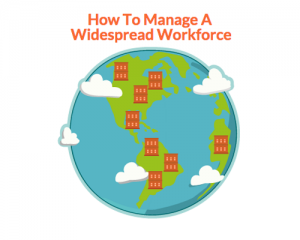 Many business owners dream of expanding their companies to a second, third, fifth or 100th location, even. They see opening additional locations as a measure of their company's success, as a sign of their business prowess and expertise, and it is. However, opening an additional location or expanding a company into another city, state or region comes with a host of challenges, particularly when it comes to developing a human resources strategy to manage all those employees.
Technology has certainly made it easier to communicate with people across the globe, but managing a widespread workforce, even across multiple locations within the same city or state, presents challenges that technology alone can't solve.
If you're considering opening an additional location, make sure to check out our tips for managing a widespread workforce:
Get the right systems and processes in place.
The three pillars that sustain any business are people, processes and systems. Getting the right people on board is, of course, key to any business, but the other two pillars are particularly important when it comes to managing employees across multiple locations. Before opening that additional location, make sure all of your systems and processes will translate to the new location. This will ensure the quality of your product or service is consistent across all locations. It's also important to define how your regional locations will interact with your main location or headquarters. Will each location operate semi-autonomously, or will they all work together on a daily basis?Working closely with the management across all locations to set expectations of performance and quality right from the beginning will go a long way towards running a seamless operation.
Stay in constant and regular communication.
The biggest problem business owners and HR professionals encounter when attempting to manage employees spread out across multiple locations or geographic areas is a lack of communication. Technology (cell phones, laptops, email, video conferencing, online task managers, cloud-based apps, etc.) has certainly made it easier to communicate with people across the globe, but just because those modes of communication are more readily available, doesn't mean communication can't be difficult, particularly across multiple time zones. Business owners should establish clear lines of communication, and set standing meetings with individual location managers as well as the entire management team on a whole to ensure everyone is on the same page.
Understand all the rules and regulations governing each location.
Each new territory you expand into comes with its own unique mix of local and state employment laws and regulations, and complying with each set of applicable laws can be a real headache. As your business expands and adds more employees, you may also become subject to federal employment laws that hadn't previously applied to your company (such as the Affordable Care Act, which applies to employers with 50 or more full-time or full-time equivalent employees). Before adding a second location, consider engaging an HR compliance expert to advise your business and ensure you adhere to all applicable rules and regulations.
Actively look for opportunities to increase employee engagement across your company.
As your business expands, it will become increasingly more difficult to keep employee engagement levels high. To prevent your workforce from feeling disconnected from the organization as a whole, look for ways to increase inter-office interaction, such as creating company-wide challenges and events.
Conclusion
Expanding your business is exciting, but also overwhelming. The more locations you add and employees you hire, it becomes increasingly more difficult to effectively manage your workforce, and your business may suffer as a result. The trick is to anticipate any potential pitfalls, and design a strategy to help keep your company on track.
G&A Partners specializes in helping growing businesses reach their goals. By combining proven HR expertise with innovative technology, G&A has become a leader in the HR outsourcing industry, providing unrivaled service and support in the areas of human resources, regulatory compliance, payroll administration, employee benefits and workplace safety.
To learn how G&A Partners can benefit your growing business, call 866-634-6713 to speak with an expert or visit https://www.gnapartners.com/contact-us/ to schedule your free business consultation.