4 Ways to Keep Employee Morale High During Uncertain, Virtual Times
During times of uncertainty, employees could experience high levels of stress and anxiety.
Work-from-home orders and social-distancing measures enacted during the COVID-19 pandemic caused many employees to confront challenges they'd never faced before. It left many feeling disconnected from their coworkers and unengaged from work. They needed constant communication and coping tools from leadership more than they ever had before.
To reconnect with your employees and offer that tether to office culture they crave, G&A Partners offers the following recommendations:
1. Host a virtual team lunch
Team lunches are a great way to help combat loneliness and help employees reconnect with one another. Pick a day each week for a scheduled team lunch and have everyone order in or make their favorite dish. Depending on your organizations current financial situation, you could even offer to treat them to the meal. Use this opportunity to recognize your team's hard work and make them feel appreciated. Aside from kudos and celebration news, don't talk about work!

Is your team not very good with small talk? There are other ways to help them engage and have fun. Consider hosting a virtual game night or game lunch with your team.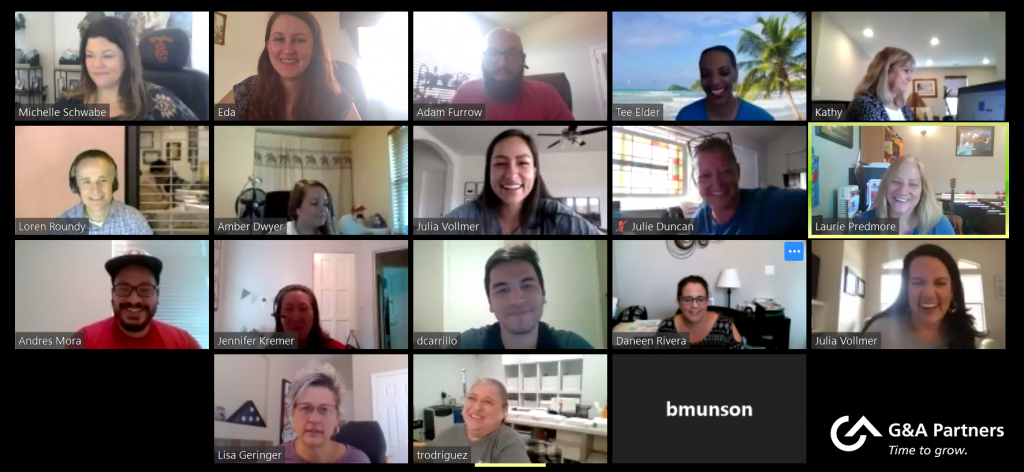 2. Celebrate milestones virtually

Celebrations such as birthdays, anniversaries, and baby showers shouldn't be cancelled or ignored. Instead, have a coworker send out electronic invitations, coordinate with other coworkers to pitch in for gifts, and "host" the virtual celebration via Zoom or another virtual meeting app. You can even get a cake delivered to the guest of honor's home the night of the celebration. Gifts can be sent to their doorstep throughout their special week because who doesn't like receiving packages in the mail?
3. Share a morning coffee (or tea) break with your teammates
Michelle Mikesell, Vice President of Corporate HR for G&A Partners, began hosting 30-minute virtual coffee breaks for anyone who was interested during the pandemic.
"We are working to keep [our employees] connected with team members across the country," she announced in April. The coffee breaks were a means for employees to disconnect from their to-do lists, brew some fresh coffee or tea and chat with other G&A employees from all 13 offices via Zoom, an online videoconference platform.

If you'd like to try something similar with your team, here are a few things to keep in mind:

Keep it informal, this is not the time to worry about work and other formalities
Encourage peer-to-peer talk and interaction
Have the host prepare ice breakers to help combat any initial awkwardness
4. Spotlight employees via your internal network or through email
One of the most beloved traditions at G&A Partners is how the company spotlights its new hires when they join the company. G&A uses Infuitive, an online advocacy program, to survey new hires. They answer fun and simple questions such as what their favorite hobby is or whether they prefer Netflix or Hulu. Then, a fun graphic is created with their photo and fun facts about them are showcased on the TVs around the office and online via the employee intranet.

Employees could really use the extra recognition and support right now. Sending out a survey and having them submit pictures along with their answers could be a fun activity for them. Then, someone within your organization can highlight an employee a day or a week via email or your online employee platform. Include photos and a fun fact about the employee, words of encouragement from their managers, kudos, or highlight something they accomplished the previous week.
Employees love to be recognized for their hard work and what better time to do it than right now, when they need it the most?