Creating an Employee Handbook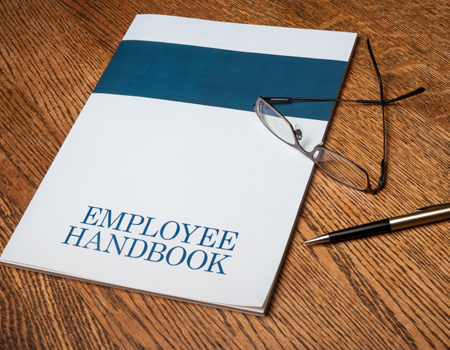 Employee handbooks and manuals are not typically enjoyable reading material. In fact, after receiving the handbook on the first day or during the first week of employment, some employees will never look at it again. The handbook is often relegated to a rarely used drawer, cabinet or shelf, only to be searched out in the event of a potential problem. But that's exactly why employee handbooks are vital to companies – they provide the structure for settling possible conflicts before they arise.
By law, employers are required to create and enforce certain policies with regard to their employees. Examples of required policies include non-discrimination, family and medical leave and sexual harassment. Depending on where a company does business, additional policies may be required by individual states. While employers are not necessarily required by law to have an employee handbook, handbooks do provide an excellent way for employers to compile and distribute required employee policies.
But an employee handbook should be more than a compilation of policies created to satisfy a legal requirement. Employee handbooks can be used to set and communicate a company's expectations of employees, as well as establish guidelines on how a company will respond to certain situations. Handbooks make company policies easily accessible to employees, and allow companies to consistently apply and enforce those policies.
Tips for Creating an Employee Handbook
Here are five tips to keep in mind when writing company policies and creating an employee handbook:
When it comes to language, keep it simple. Don't use a bunch of technical terms in your company policies. Instead, try to use simple, plain language that would be easily understood by your workforce. If a large percentage of your workforce speaks another language, consider having your employee handbook available in two languages.
While your employee handbook may include information about policies required by law, it should not be presented as a legally binding document or contract. To avoid confusion, consider including a disclaimer section at the beginning of the handbook stating that it is not an employment contract.
Speaking of disclaimers, you might also want to include a section stating that the policies included in the handbook take precedence over any previous policies, in case any employees still happen to have policies from five years ago lying around their office.
The only constant in life is change, so make sure your employees understand that handbook should be considered a "living" document, and that the policies it contains are subject to change at any time. If you do find yourself making changes to company policies, be sure to notify your employees of the changes and make updated copies of the policy available to everyone either on paper, via email or on the company intranet.
Since the nature of the workplace is ever-changing thanks to technology, make sure to regularly review the entire handbook, especially if your company is growing rapidly.
Creating and updating employee handbooks and company policies can be overwhelming. That's why G&A Partners has a team of HR professionals available to assist our clients with employee handbooks, compliance issues, recruitment strategies, safety manuals and more.