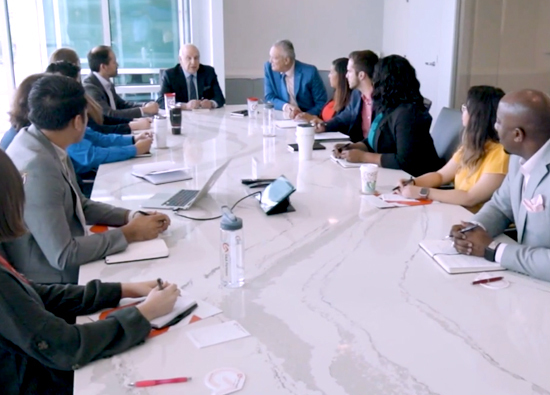 Leveraging buying power to procure quality health insurance plans at discounted rates.
Large corporations have an advantage when procuring medical insurance coverage: The more people an organization has in its employee pool, the more power they have when it comes to negotiating insurance rates with carriers. As a small or mid-sized company, you may have experienced frustration when faced with limited—or more expensive—medical insurance plan options simply because you have fewer employees.
At G&A, we leverage the buying power and provider relationships we've cultivated over time. By pooling 55,000-plus employees from more than 2,000 small to mid-sized client companies, we're able to procure Fortune-500-level medical insurance at discounted rates. And when you partner with us, you gain access to these high-quality, affordable plans. In addition, our benefits experts can take on the task of administering your medical plan—helping to ensure your company remains compliant with mandatory requirements.
REALIZE SIGNIFICANT REDUCTIONS IN MEDICAL INSURANCE PLAN COSTS
Medical insurance plans tailored to your employees' needs
You want a medical insurance plan that gives your employees flexible, cost-effective healthcare benefits and responsive customer service. We work with you to create custom offerings—based on master health insurance plans—that meet the needs of your employees and don't break the budget.
Medical Insurance Plan Options
Through our partnerships with reputable national healthcare providers, G&A offers several different plan options that include traditional Preferred Provider Organization (PPO) plans, Health Maintenance Organization (HMO) plans, and High Deductible Health Plans (HDHP) that are Health Savings Account (HSA) eligible. The plans vary by state, but each gives employees access to industry-leading health and wellness programs.
G&A's current medical insurance plan options include:
BlueCross BlueShield of Texas (BCBSTX)
BlueCross BlueShield of Minnesota (BCBSMN)
BlueCross BlueShield of Illinois (BCBSIL)
BlueCross BlueShield of Oklahoma (BCBSOK)
Anthem BlueCross of California
Anthem BlueCross BlueShield Colorado
Anthem BlueCross BlueShield Nevada
Wellmark BlueCross BlueShield
Cigna (offered in states where G&A does not currently have BlueCross BlueShield coverage)
Cigna Utah
Kaiser of California
United HealthCare
All plans are administered by G&A's employee benefit experts—a team that has been recognized for its five-star customer service. Your employees can contact us directly when they have questions or need help resolving issues. We also monitor and manage claims and determine your risk profile so that you can customize a wellness program that addresses specific health issues within your company.
OFFER COVERAGE THROUGH NATIONALLY RECOGNIZED HEALTHCARE PROVIDERS AND SAVE BIG IN THE PROCESS
Coverage from nationally recognized healthcare providers
G&A works with national medical insurance companies that have long-standing, strong relationships with physicians and hospitals throughout the U.S., and we have the customer service support your employees need to locate care when and where they need it.
Some of the nationally recognized providers offered through G&A include:
BlueCross BlueShield
BlueCross BlueShield (BCBS) is an established, respected national medical insurance carrier that provides coverage across every ZIP code in all 50 states, the District of Columbia, and Puerto Rico. Additional information on BCBS:
One in three Americans has a BCBS medical insurance plan.
BCBS members have access to care from more than 342,000 providers who are engaged with patient-focused care programs.
BCBS covers 85% of doctors and contracts with 5,000 hospitals nationwide.
Cigna
In states where G&A doesn't currently have BlueCross BlueShield coverage, we offer a wide range of plans through Cigna—a global health service carrier. Our flexible options include traditional co-pay plans, HDHPs, nationwide plans, and local narrow network options with differing coinsurance percentages and out-of-pocket maximums—so you can get the plans you need at a good price.
G&A's team works closely with our national partner providers to learn their plans, procedures and systems so that we can provide expert customer service to your company and employees. We are always here to answer your employees' questions and assist them with their needs, conduct open enrollment sessions, reconcile invoices and remittance to carriers, and oversee all COBRA and HIPAA administration on your behalf.
Affordable Care Act Expertise
Since 2010, businesses that employ more than 50 full-time employees have been required to provide healthcare insurance to full-time employees under the provisions of the Affordable Care Act (ACA). Your commitment to providing your team with reliable and affordable medical insurance requires you to navigate what is arguably one of the most complex laws ever passed.
Rely on our team of experts to help you meet ACA requirements and remain in compliance. G&A can also help you manage the complicated and extensive annual ACA reporting requirements established by the Internal Revenue Service (IRS).
Our services include:
Offering health insurance plans that are compliant with ACA regulations governing minimum coverage requirements and affordability
Implementing necessary preventive measures to avoid costly penalties
Deploying sophisticated tracking capabilities that enable employers to predict trends in employee eligibility from month to month
Monitoring hours worked by part-time and variable-hour employees
Our reporting services include:
Integrating payroll, benefits, and employee data housed in G&A's system into our ACA tracking tool
Generating the information needed to complete Internal Revenue Code Sections 6055 and 6066 forms
Distributing forms and reports to appropriate parties in advance of mandated deadlines