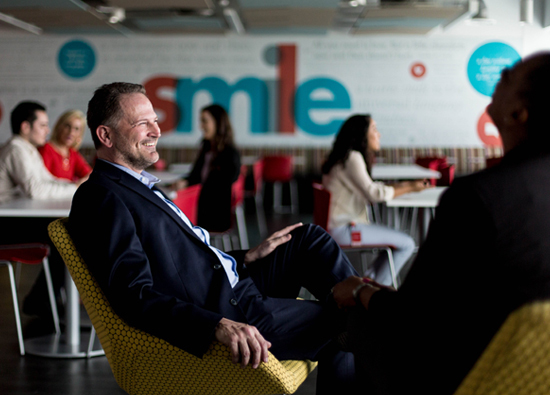 Build an employee wellness program that fits your budget and complements your company culture.
The benefit of investing in the health and wellness of your employees extends beyond a happy and strong workforce. The return on your investment also comes in the form of reduced absences, higher productivity, and lower healthcare costs.
The Evolve wellness program at G&A encourages healthy lifestyle practices through employee competitions, initiatives and educational tools. Our experienced corporate wellness team is here to tailor a program that fits your company's unique needs.
G&A's Partner Perks Discount Program
At no cost to your company, the Partner Perks program at G&A gives your employees access to exclusive discounts—allowing them to earn up to 40% cash back when they shop at thousands of popular stores online. After your company implements the Partner Perks program, your employees create an account on the online portal (or mobile app) and immediately access discounts from more than 4,000 merchants in the network. Here's how:
Shop
Follow the link to the secure platform from our site, browser extension, or mobile app. Shop as you normally do through our partner retailers.
Earn
Cash back shows as pending within a few days.
Get Paid
Receive a check after the return period ends, typically 90 days or more after purchase.
A health and wellness program minus the hefty price tag
A study published by the U.S. Small Business Administration found that 93% of business owners believe their employees' health and welfare is vital to their company's bottom line. However, more than 60% reported that they had not implemented an employee wellness program due to the anticipated high costs and administrative burdens associated with program management.
G&A's Evolve program gives you access to an affordable and comprehensive suite of employee wellness services that include:
A dedicated wellness coordinator
A customized incentive points program
An online wellness platform and mobile app
Companywide and personal health challenges
An annual employee health risk assessment
Annual reporting and analysis
An online educational wellness library that teaches healthy practices, including a smoking-cessation course
What is an Employee Assistance Program (EAP)?
The emotional and mental health of your employees is just as important as their physical well-being. With G&A's Employee Assistance Program (EAP), you can extend a helping hand when life presents challenges. Administered by Unum, the program empowers employees to seek assistance (confidentially and at no extra cost) for a variety of personal or work-related issues.
Employee Assistance Programs (EAP) offer free and confidential assessments, short-term counseling, referrals, and follow-up services to employees who have personal and/or work-related concerns.
With an Employee Assistance Program (EAP), your employees are able to seek assistance for:
Childcare
Divorce
Grief
Addiction
Healthy lifestyle habits
Budgeting
Debt
Retirement
Career issues or development
Work relationships
The benefits of an Employee Assistance Program (EAP)
Employees who feel overwhelmed by work or personal issues can become understandably distracted or disengaged in all areas of their lives. Those who take advantage of professional assistance can learn how to work through difficult situations in a healthy and productive manner, and ultimately emerge as happier, more engaged employees.
The team at G&A can help you set up your Employee Assistance Program (EAP), facilitate your relationship with UNUM, and communicate information about the program's benefits to your employees.