G&A Partners Named To 2017 Entrepreneur360™ List
HOUSTON – December 19, 2017 — G&A Partners, a leading national professional employer organization (PEO), was recently recognized as one of the "Best Entrepreneurial Companies in America" by Entrepreneur magazine's Entrepreneur360™ List, a premier study delivering the most comprehensive analysis of private companies in America.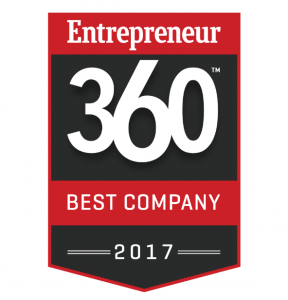 Based on this study forged by Entrepreneur, G&A Partners is recognized as a well-rounded company that has mastered a balance of impact, innovation, growth and leadership.
"We are proud to be ranked as the No. 85 best entrepreneurial company in America," said John W. Allen, president and COO, G&A Partners. "We have enjoyed significant growth over the past few years, and this award is truly a tribute to all of the amazing work G&A Partners do across all of our offices."
"The Entrepreneur 360 List celebrates outstanding companies for the value they bring to the world, not just the worth of their company," says Bill Shaw, president of Entrepreneur Media, Inc. "The companies on this list exemplify growth, not just in top and bottom line, but in their ability to create a superior value for their customers, build adaptive learning cultures, and drive innovation in their marketplace."
For additional details on the E360 List and the companies recognized, visit: entrepreneur.com/360
About G&A Partners
G&A Partners, one of the nation's leading professional employer organizations (PEO), has been helping entrepreneurs grow their businesses, take better care of their employees and enjoy a higher quality of life for more than 20 years. By providing proven solutions and technology in the areas of HR compliance, employee benefits, payroll administration and workplace safety, G&A alleviates the burden of tedious administrative tasks and allows business owners to focus their time, talent and energy on growing their company. Headquartered in Houston, G&A has offices throughout Texas, as well as in Arizona, Colorado, Minnesota, Utah and Latin America.
About Entrepreneur Media Inc.
For nearly 40 years, Entrepreneur Media Inc. has been serving the entrepreneurial community providing comprehensive coverage of business and personal success through original content and events. Entrepreneur magazine, Entrepreneur.com, and publishing imprint Entrepreneur Press provide solutions, information, inspiration and education read by millions of entrepreneurs and small business owners worldwide. To learn more, visit entrepreneur.com.