G&A Partners Announces New Minneapolis Staff Appointment
MINNEAPOLIS – May 18, 2016 – G&A Partners, a national professional employer organization (PEO) and HR outsourcing provider, recently announced the appointment of Russ Simatic as the regional manager of its Minneapolis office.
In this role, Simatic will focus on new business development and the delivery of G&A's unique PEO service offering to clients throughout the Minneapolis-St. Paul area, as well as the wider Midwest market. Simatic is the first of many new staff appointments in G&A Partners' Minneapolis office, and represents the firm's increased commitment to becoming a leader in Minnesota's PEO and HR outsourcing market.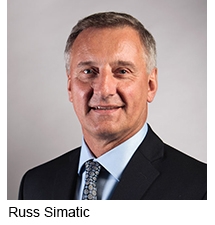 "I feel very honored to have been selected by the G&A leadership team to spearhead the growth and development of their operations here in Minnesota," Simatic said. "I feel an exceptionally strong alignment with G&A's corporate values and the company's customer-centric approach to delivering outsourced HR products and services to its clients."
"With his previous experience in the PEO industry and extensive knowledge of the greater Minneapolis-St. Paul market, Russ is a valuable asset to our organization," said Tony Grijalva. chairman and CEO, G&A Partners. "G&A Partners is committed to providing a truly outstanding experience for our clients, and we are confident Russ and our team of local HR experts will help us deliver on that experience and provide exceptional value to Minnesota businesses."
About G&A Partners
G&A Partners, one of the nation's leading professional employer organizations (PEO), has been helping entrepreneurs grow their businesses, take better care of their employees and enjoy a higher quality of life for more than 20 years. By providing proven solutions and technology in the areas of HR compliance, employee benefits, payroll administration and workplace safety, G&A alleviates the burden of tedious administrative tasks and allows business owners to focus their time, talent and energy on growing their company. Headquartered in Houston, G&A has offices throughout Texas, as well as Arizona, Minnesota, Utah and Latin America.