How to Become a Leader Employees Will Want to Follow
Webinar Recap
Leaders are in great demand - and much is demanded of them - in the modern workplace. Employees look to them as equal parts coach, mentor, manager, and advocate. It may seem like a tall order, but aspiring to train, support, and build a great leadership team will pay off in various ways for your organization. When describing what it takes to be a great leader, Steve Moore, Director of Training for G&A Partners, quoted the late novelist and former Governor-General of Canada, John Buchan, during our latest webinar, How to Become a Leader Employees Will Want to Follow: "The role of a great leader is not to give greatness to human beings, but to help them extract the greatness they already have inside them."
There appears to be a disconnect between how leaders view themselves and how employees view them. According to a Harvard Business Review survey, 72% of leaders saw themselves as inspiring. However, 82% of employees who participated in a Gallup survey viewed their leaders as uninspiring. Either way, there is room for growth. Moore said today's managers or leaders could employ numerous strategies to sharpen their skills. For example, a leader should be self-aware, which means knowing and understanding your feelings and actions and how they impact others. "A couple of years ago, I made a pact with myself," Moore says. "When I am driving to and from work, I turn off the radio and phone and sit in silence. I ask myself, 'What am I doing well and not so well? Am I accomplishing my goals?' I give myself that time - free of distractions – to practice self-awareness." He said it's also vital to ask for the same feedback from team members – even if it can be hard to hear – to promote leadership growth.
Moore recommends various leadership and team-building methods - as well as psychometric tests – to help identify, support, and strengthen leaders' and team members' skills in your organization. In this webinar, you can:
· Learn about self-awareness strategies that help you find meaning behind emotions, manage your triggers and visit your values.
· Discover what "makes you tick" using the Johari Window Model and how the results can inspire more authentic and deeper connections with others.
· Understand differences between leaders and managers and how they relate to Theory X and Theory Y, which have been around since the 1960s.
· Find out what type of leaders Oprah Winfrey, Steve Jobs, and Mother Teresa were and how you, too, can build your own unique organizational leadership brand.
· Acquire insights on the four pillars of creating a high-performing team and how to identify future leaders in your organization.
You can access the full webinar recording above and download the slides. It has been pre-certified by the Human Resources Certification Institute (HRCI) and The Society for Human Resource Management (SHRM) for one hour of HR general recertification credit. To earn HRCI recertification credit, you must watch the video above in its entirety and follow the instructions to request your credit. Also, check out G&A's Situational Leadership: A Customizable Approach to Leading Teams and Nurturing Employee Growth for additional information about how agile leaders can help employees develop unique knowledge, skills, and abilities.
If you have additional questions after viewing the presentation or need help tackling your HR needs, let's talk soon. For other resources, go to G&A Partner's website and submit questions to info@gnapartners.com.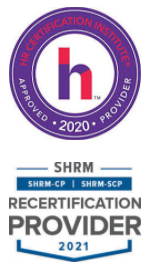 HR Certification Institute's® (HRCI.org) official seal confirms that G&A Partners meets the criteria for pre-approved recertification credit(s) for any of HRCI's eight credentials, including SPHR® and PHR®. For more information about certification or recertification, please visit hrci.org.

G&A Partners is recognized by SHRM to offer Professional Development Credits (PDCs) for the SHRM-CP® or SHRM-SCP®. For more information about certification or recertification, please visit shrmcertification.org.
The use of this logo is not an endorsement by the HR Certification Institute of the quality of the program. It means that this program has met the HR Certification Institute's criteria to be pre-approved for recertification credit.
About us
G&A Partners is a leading professional employer organization that offers world-class HR services and a team of experts who can help you navigate employment issues and initiatives such as diversity, equity, and inclusion. Please schedule a consultation with one of our knowledgeable business advisors to learn more.