As you move into each new phase of your company's growth, unique challenges arise that require you to expand resources and increase capabilities.
G&A's team of dedicated specialists can help meet those needs with scalable and customizable HR solutions, including payroll, recruitment, benefits administration and more—all at an affordable price. You get the back-office support you need, along with the expertise and integrated technology to guide and support you along the way.
Support your company's growth with an expert, dependable, and comprehensive HR infrastructure
Building an internal human resources department takes time, money, and energy. As your business grows, the level and scale of services you provide employees multiplies. Your exposure to employment laws—at the federal, state, and local levels—also increases, along with more complicated reporting requirements. With G&A as your partner, you have a built-in HR department at your fingertips, and you can tap into the expertise of a large and diverse team of experts whenever the need arises.

HR Support Options
With G&A, you have options. As your PEO partner, we can deliver a comprehensive service that includes strategic and tactical HR and administrative support, or, as your Human Resource Outsourcing (HRO) provider, we can support your in-house human resources staff with individual HR services. Our services include:
Administering many HR functions on your behalf
Optimizing HR policies and processes
Providing tools, systems, and technology to make HR easier and more efficient
Furnishing important employee documents
Sharing best practices for minimizing risk and maintaining compliance
Costly Consequences
Managing human resources in-house is challenging for any business, regardless of size. Internal HR teams are often tasked with taking care of employee needs while also making sure the company stays compliant and current with employment laws and trends.
It's estimated that more than 450 companies are hit with employment lawsuits every day, which can lead to expensive legal bills and settlement costs. If your designated HR employee or team is overwhelmed, your company could suffer an inadvertent misstep that puts you in a vulnerable spot.
Get access to a team of HR experts for the price of one full-time employee
As your company grows, so do your HR requirements, and it can be challenging to find a team of employees—let alone one employee—to manage it all efficiently and effectively. From payroll and recruiting to workplace safety and benefits administration, G&A's team of experts can handle your entire HR operation and advise you on complex issues that arise as your organization evolves.
The average cost of managing HR and administrative functions in-house is around $2,000 per employee, per year. When you partner with G&A, you gain access to a full team of HR experts and certified professionals for about the cost of hiring one full-time employee. It's like hiring a Million-Dollar Employee without taking on the million-dollar salary. Our experts can help you:
Bridge HR knowledge gaps
Monitor employment laws that impact your business and help you comply
Lower employee overhead costs
Develop programs that promote a safe and healthy workplace while maintaining high productivity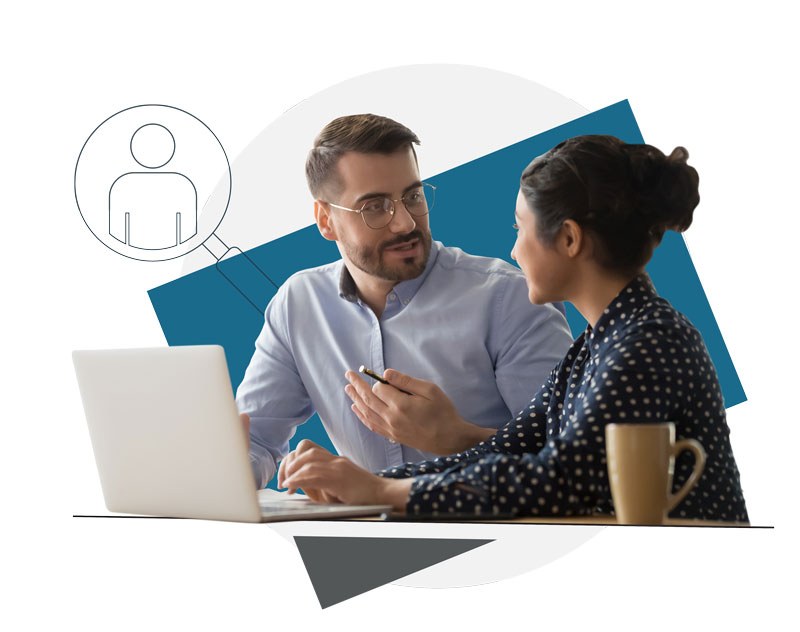 Flexible & cost-effective HR solutions
Control costs and increase efficiencies by consolidating your HR services
An alternative to managing an internal HR department is to outsource individual services, such as payroll, benefits and recruiting, to multiple vendors. Each may provide value in their area of expertise but coordinating with multiple companies can quickly become confusing and time-consuming—working against your company's goal of simplifying HR processes.
When you consolidate your HR services with G&A, you:
Streamline efforts and communication with one company
Tap into a breadth of HR knowledge and experience for roughly about the cost of one full-time specialist's annual salary
Gain access to a full range of HR specialists ready to help when questions or issues arise
Attain the flexibility to scale services as your needs grow or change
Obtain lower rates for employee health insurance, workers' compensation, HR technology and more by leveraging our economies of scale
PEO services that result in a sizable return on your company's investment.
Partnering with a professional employer organization (PEO) can benefit your business in a number of ways. In fact, a National Association of Professional Employer Organizations (NAPEO) study released in September 2019 revealed that PEO clients realized an average 27.2% return on investment (ROI). The NAPEO Study, "The ROI of Using a PEO," focused on measuring the average cost savings clients realized on their PEO investments by calculating savings in the following areas:
HR personnel costs
Health benefits
Workers' compensation
Unemployment insurance
Other external expenditures in areas related directly to HR services (payroll services, benefits, etc.)
Results revealed the average cost savings of using a PEO to be $1,775 per year, per employee. The average PEO cost per employee was $1,395. The ROI was calculated by dividing the difference between the two ($380) by the average cost ($1,395) resulting in 27.2% ROI or a cost savings of $272 for every $1,000 spent.
Additional PEO Benefits
In addition to cost savings cited in NAPEO's 2019 study, the organization's published white papers note several benefits that PEO clients say have contributed to their business' success, including:
A much broader array of benefits to their employees, such as greater access to medical insurance and retirement plans.
Significantly higher numbers of satisfied employees and lower rates of employee turnover.
Faster growth and they are more likely to stay in business than other companies.
Employees are more likely to describe the business as innovative and taking the right steps to be competitive.
Delivering Value
Whichever way you slice the data, G&A's comprehensive menu of HR services can add value to your company's bottom line—helping you lower your HR costs, attract, motivate, and retain employees, and manage HR responsibilities so you can focus on your core business.
An integrated HR technology solution supported by G&A's world-class client service.
Technology can dramatically increase efficiencies in your business, but comprehensive solutions result from a combination of creativity, communication, strategic thinking and technology. When issues arise, you want and need a dependable hands-on team you can count on to help resolve problems quickly and efficiently. With the targeted expertise and industry-leading client support of G&A in your corner, you have the HR solutions you need to take care of your employees as you continue to grow.

G&A's integrated HR technology platform features WorkSight, a single sign-on (SSO) platform that simplifies every stage of the employee lifecycle—from hire to retire. With the ability to perform tasks online—such as onboarding employees, benefits enrollment, time tracking, and payroll processing—you can stay on track and be compliant with local, state and federal employer requirements, saving time and money as you grow.
G&A's technology can also help you:
Streamline procedures and processes
Reduce costly, time-consuming errors
Identify talent faster and make your application process smoother
Monitor, manage, and engage employees online, which can boost productivity
Offer employees an upgraded educational and developmental experience so they can grow their expertise