5 Tips to Stay Productive when Working from Home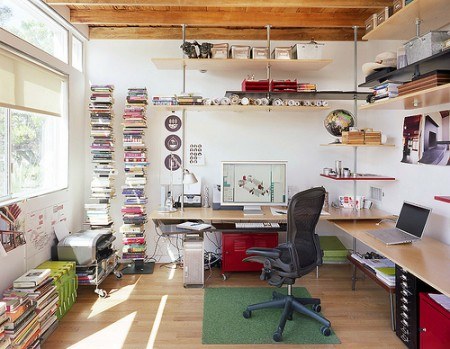 Whether you frequently spend part of your workweek working out of a home office, or have only dreamed about it, working from home is a rising trend in the American workforce. In fact, as illustrated by this infographic from the U.S. Census Bureau, the number of Americans classified as home-based workers increased by over 4 million people (35 percent) between 1997 and 2010.
The term "home-based worker" encompasses employees who work exclusively from home, as well as those who spend part of their workweek on the job site and part of it working from home. Home-based workers are most likely to be in management and business-related or consultative roles, although the number of home-based workers in the computer, engineering and science fields is rapidly growing as well.
Whether you're looking to make your home office your permanent office, or if you just want to minimize the number of hours you spend commuting, you're not alone in wondering whether you might be able to work from home. And while the work-from-home trend is growing, it's easy to fall into bad habits that lead to reduced productivity. We've compiled a list of five tips to help you avoid some of the most common pitfalls of working from home:
1. Get dressed
There is a bit of a misconception that everyone who works from home is doing so in his or her pajamas. Why wear a suit if no on can see you wearing it? A suit may be a bit much, but what you wear really does impact how you feel, and ultimately how productive you are. Just because you can do your work in sweatpants doesn't mean that you'll do your best work in sweatpants. Taking the time to get ready and dressing professionally will help you set your mind on the work ahead.
2. Create a home office
Just like getting dressed, having a dedicated home office can have a significant impact on your productivity. Depending on the size of your home, your dedicated office space may be an entire room, or it may be a small desk under a window. Whatever form your home office takes, make sure it's comfortable and free from as many distractions as possible.
3. Set a schedule that works
Just like a traditional workplace, it's important to have a balance between work and home, but that line is easily blurred when you work from home. Avoid working all the time by setting regular hours, and sticking to that schedule as much as possible. And while working from home may give you the opportunity to conduct personal errands during "working hours," make sure to fit these personal errands into your schedule just as you would in a traditional office setting. Also, make sure your family, roommates and friends respect your work schedule and understand that just because you're home doesn't mean you're not working.
4. Change it up
Who says you have to stay in your house? For most at-home workers, the only things they need to have are a computer and a strong Wi-Fi signal. Take advantage of the free Internet in local coffee shops or restaurants. Depending on where you live, you may even be able to find public parks or other outdoor areas with free Wi-Fi. If you absolutely can't leave the house, consider setting up a chair on the lawn on a pretty day – you'd be amazed at how much a difference a change of scenery can make.
5. Take advantage of online programs
One of the biggest drawbacks of working from home is that you lose the interpersonal interaction with your co-workers and supervisor. Luckily, there are many online programs that can help you stay connected, and many of them are free or inexpensive. Skype, Google+ Hangouts and GoToMeeting are just a few of the hundreds of programs available to help you conduct "face-to-face" meetings without ever leaving your home.
If you want to join the work-from home movement, think carefully about the best way to begin that dialogue with your employer. Prior to setting a meeting with your supervisor, prepare a plan that outlines how you will still continue to perform your job responsibilities at the same or an improved capacity. You might also want to suggest implementing a trial period, with the idea that you and your supervisor will be able to evaluate your performance over the trial period before making a more permanent move.