PART 3: Employee Engagement: How to Create Balance and Build Bridges in a Hybrid Workplace
Many companies sent employees home to work remotely during the pandemic, and as a number of organizations look to bring employees back to the office, there have been challenges. Of course, new COVID variants have made it difficult to make a smooth transition. But pushback from employees—wanting flexibility to become a workplace norm instead of a temporary pandemic pivot—has employers amending short-and-long term plans.
In a survey conducted by Grant Thornton for its "State of Work in America report: Assessing the state of American workers," employees polled voiced strong support for employers maintaining flexibility in the workplace by indicating the actions they might take if they are not allowed to work remotely:
33% are actively looking for a job with a different company that offers remote work opportunities
40% will look for another job if forced to return to the office fulltime
51% would give up 10-20% of a future increase in salary to have flexibility in when and where they work
As the world tentatively inches toward a return to "normalcy," employers that have adopted—or are considering—a hybrid workplace model may find it challenging to create an environment that supports all employees' needs, whether they work on-site, remotely, or a combination of both.
"Most of us have become used to engaging with teammates or clients when everyone is virtual," says Jennifer Morelli, a principal for Grant Thornton Transformation, in the report. "However, when returning to a hybrid environment where only some of the workforce is back in the office, we need to create an in-office experience that goes beyond sitting in front of a computer on virtual calls all day. Organizations need to make sure they are providing meaningful opportunities and reasons to come into the office."
Unintended disparities between on-site and hybrid or remote workers have also emerged and need to be addressed. For example, if your company is willing to implement hybrid work for new hires, should you offer the same flexibility to existing employees? If not, it may cause friction and negatively affect your company culture.
Following are recommendations that can help your business establish balance and boost employee engagement in your hybrid workplace:
Set up a Fair, Accessible Hybrid Work Plan
Remote work isn't for everyone, and not every job is suited for a flexible work schedule. However, if it is an option for some—or all—of your workforce, it's a good idea to build upon the positive benefits your employees experienced working remotely during the pandemic. But business owners who take steps to implement a hybrid strategy should go to great lengths to ensure all employees have access to flexible scheduling.
What does that mean?
"Don't selectively dole out hybrid works schedules to some employees and not others—without good reason," write Joan C. Williams, Rachel M. Korn, and Mikayla Boginsky in The Harvard Business Review's "Don't Lose the Democratizing Effect of Remote Work." "Creating a new caste system where elites have anywhere jobs and non-elites are shackled to the office full time is a recipe for high attrition among employees who often have a lot of firm-specific knowledge that is valuable to their employers."
The article also outlines steps to take to ensure that historically excluded groups have equal access to remote work and flexible scheduling:
Ask your employees what they want: Survey ALL employees to get ideas and feedback for your hybrid workplace plan. This includes employees whose positions do not allow them to work remotely. Develop a plan that invests in all aspects of your hybrid workplace culture. Because some of your employees will work remotely, some in the office, and some a mix of both, you will need to support distinct employee experiences—which can be challenging. Create clear and concise remote work guidelines that outline and clarify expectations.
Recognize that some workers have a legal right to remote work: The Americans with Disabilities Act (ADA) entitles disabled employees to reasonable accommodations that do not impose an undue hardship on their employers. "Even if you were not accommodating an employee with a disability before the pandemic, the fact that that person has been working remotely for over a year can serve as evidence that a permanent accommodation does not present an undue hardship to the employer," states the article.
Proactively avoid on-site favoritism: On-site favoritism occurs when employees in the office get more advancement opportunities than employees who work remotely. "Have managers keep track of who is getting the glamour work," suggests the article. "Look for patterns to see whether those who work on site are being favored over those who aren't. While you're at it, look for demographic patterns, too—alas, you'll probably find them. If you do, you need to either train your managers to avoid bias, change the system, or both."
Rethink your company's meeting strategy: Hold all-remote or all in-person meetings rather than combining the two types and be mindful of planning meetings during school pick-up and drop-off times when remote workers are traditionally tied up and, as a result, distracted. "Consider setting up 'core hours' where all team members are expected to be available and make an effort to schedule meetings during those times. And don't forget to account for remote employees who may be working in different time zones."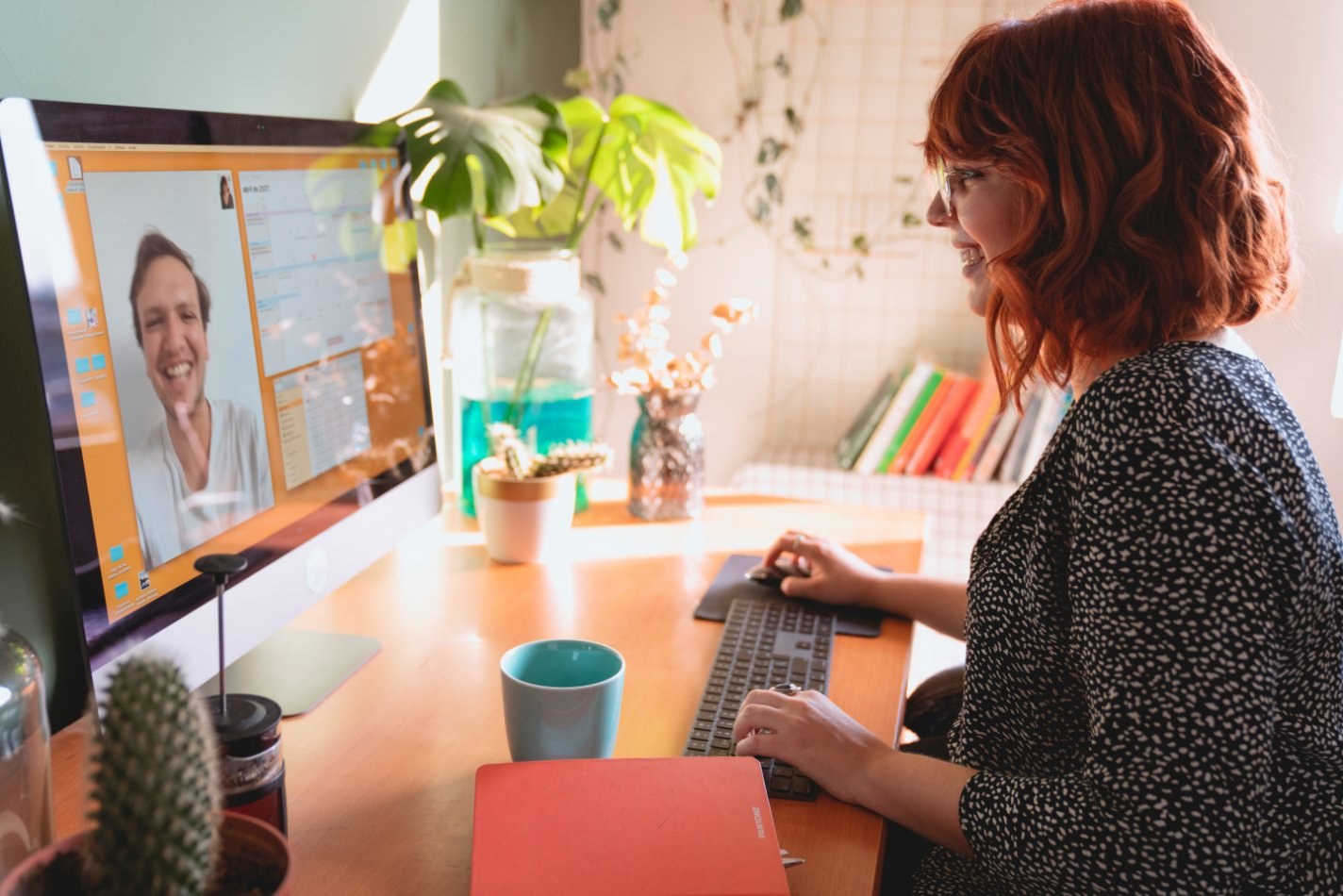 Prioritize Employee Engagement in a Hybrid Workplace
Your company's culture is a large part of the employee experience, so let it evolve and grow to embrace workers in various locations. Consistently search for and implement ways to create connections, build trust, foster innovation, and increase engagement.
G&A Client Advocate Denise Macik stresses that it's essential to set all employees up for success and to proactively build bridges between those working on-site and in remote locations.
Macik's top tips include:
Acknowledge the small stuff. A simple "thank you" or "I appreciate you" can do wonders for an employee who's feeling uncertain, unsure, or even anxious.
Recognize difficult situations and help provide solutions.
Schedule regular check-ins. Consistent communication and a link to the familiar provide a sense of belonging and stability.
Don't forget performance reviews so that your team stays on track with goals and milestones.
Recognize your employees who have achieved goals or reached milestones in weekly emails or on a team video conferencing call.
Keep traditions. Just find a new way to do them.
Create intentional connections between on-site and remote workers so that they don't dwell in silos. Encourage them to interact through platforms like Slack or Microsoft Teams and regularly schedule team-building exercises—virtual or in the office—to discuss opportunities and challenges, brainstorm ideas, network, and build rapport.
Don't overlook workers whose job responsibilities are not conducive to remote work. To avoid potentially disenfranchising these critical workers, consider flextime, shift work, compressed workweeks, part-time schedules, and job-sharing options.
G&A Partners offers access to HR experts with years of experience helping businesses develop their employees, improve their workplace cultures, implement new HR processes and procedures, and more. Schedule a consultation with one of our trusted business advisors to learn more.