How to Energize The Onboarding Experience
Immerse your new recruits in your company culture and set them up for success
Some may say onboarding is just the compliance side of hiring: setting up payroll, going over the employee handbook, etc. But G&A believes a proactive and engaging onboarding experience should involve much more than paperwork.
Boost employee morale by creating an inviting onboarding experience
For years, college orientations have been used to instill the tradition and values of the alma mater into the newest freshmen class, while also providing them with the opportunity to make friends and explore the campus in a fun and engaging way. Why shouldn't your company's onboarding process have a similar impact?
Whether you have a new-hire class of two or 20, make sure their first day is filled with friendly faces, fun activities, and maybe even some free food to get the new recruits excited about your organization.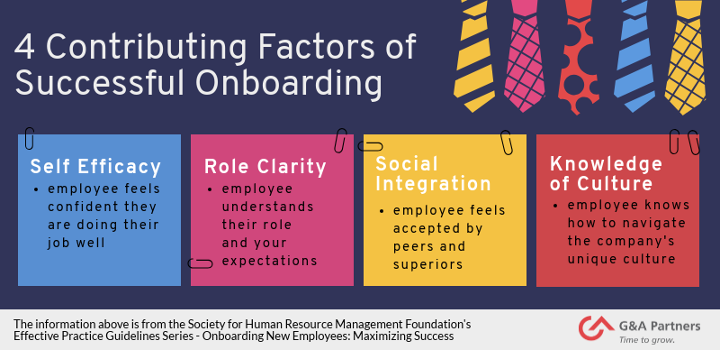 Not sure you have the resources to dedicate to creating a better onboarding process? Check out our article: "How An HR Firm Can Help You Create A Better New-Hire Experience."
Allow new hires to adjust to a new normal
Onboarding should culminate in an employee's total immersion into your organization's culture. Your culture comprises the people, policies and place where you do business. Ask yourself: "What are some of our workplace norms that might not be typical in other industries?" While there are several phases new employees go through during their adjustment, arguably the most critical is understanding their new workplace norms.
Find a way to incorporate policies while taking a tour of the office. For example, if their old office allowed them to snack at their desk but it's not allowed in their new work environment, don't wait until you see them snacking to notify them of this policy.
Success starts here
G&A Onboarding Team Lead Tee Elder suggests you have your core values and mission statement on display loud and proud in your offices. She also shared the following tips: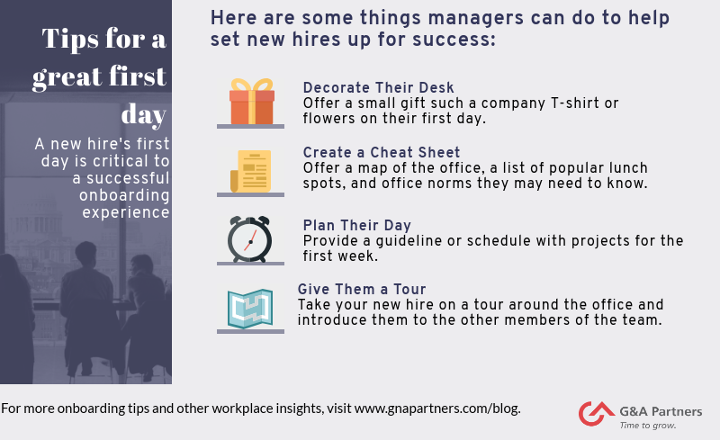 G&A Partners can help ensure your new employees have a smooth transition into their roles. As part of our comprehensive HR services, we provide companies with access to a best-in-class online onboarding tool that integrates seamlessly with our HR, payroll, and time and attendance technologies.
No company hires people intending to lose them in 90 days. Companies invest a lot of money in finding the right person for their open roles. Our certified HR experts can help you develop policies and procedures that set every employee up for success from their first day to their retirement party.