As a business grows and succeeds, it's common for most small and mid-sized business owners to feel increasingly burdened by the mounting administrative tasks that a professional services firm demands, yet also miss the reason they began the business: to pursue a passion and dream.
Whether you're providing accounting services, running a legal firm, or offering the latest in IT expertise, your vision likely didn't include spending long days managing payroll, recruiting better job candidates, or shopping the open market for more competitive benefits packages.

These administrative tasks may keep you up at night – they are integral to building your business – but you may also feel overwhelmed, even intimidated, by the human resources side of running a business.

Guide
The PEO Purchasing Guide for Professional Services Companies
Get insider tips on what to look for when researching PEOs, what questions to ask of prospective PEOs, and what you can expect the cost of PEO services to run your company.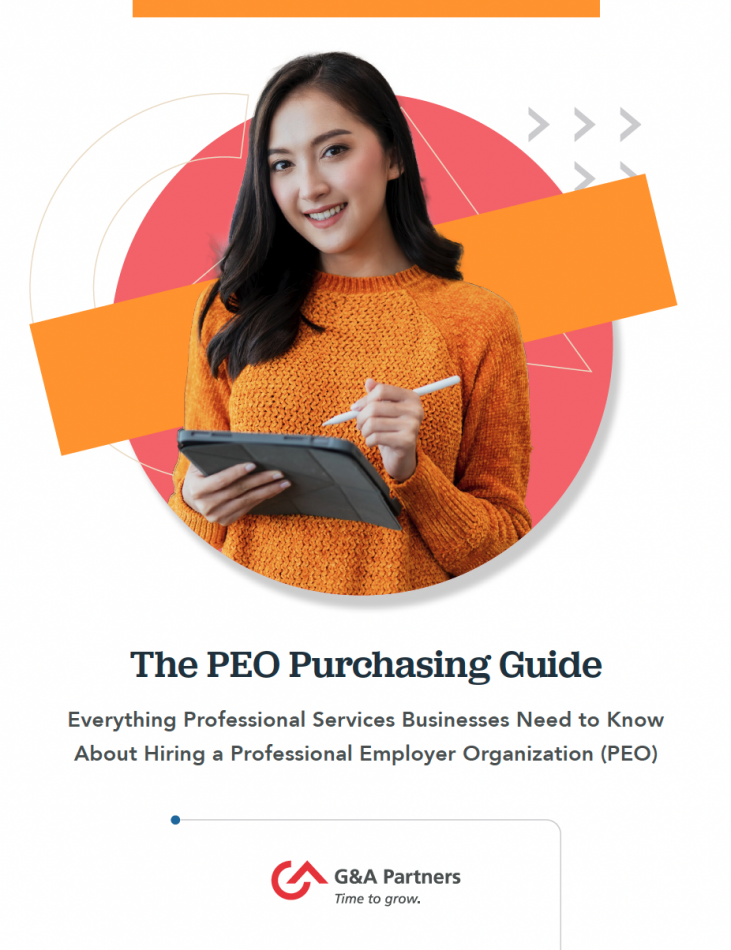 That's why professional services firms often choose to outsource HR, giving you peace of mind that your employees are cared for but providing you time to focus on your core business.
To help you decide if it's time to outsource your HR services, ask yourself these 10 questions for professional services companies:


Are you losing talent and valued employees to other companies that offer a better and more affordable benefits package?

Small and mid-sized professional services firms know that finding quality job candidates with the right mix of qualifications, education, and experience is difficult, especially when larger companies often offer better, more affordable benefits packages, which attract top talent from smaller businesses.

Outsourcing HR with G&A Partners, a professional employer organization (PEO), gives you access to better healthcare plans so you can provide more options to fit your employees' needs and budget. You'll also have access to ancillary benefits that professionals value, such as retirement plans, life insurance, and disability plans, so you can build a more competitive benefits package.


Is payroll monopolizing your (or your staff's) time?

Juggling the many moving parts of payroll – including time-tracking, benefit deductions, payroll tax filing, reporting and more – can leave you and your staff feeling exhausted and overwhelmed. But processing timely, error-free paychecks is essential to keeping employees happy and motivated.

Outsourcing payroll lets you get back to running your business, while HR experts provide end-to-end payroll services. With G&A Partners, you'll also gain access to simple, integrated technology to streamline managing work schedules, vacation time, and reports.


Is high employee turnover negatively impacting your company's performance and office morale?

Employee turnover is a challenge all businesses face, but it can be particularly difficult for small and mid-sized professional services organizations that are often operating with fewer resources. The impacts of employee turnover may include the loss of institutional knowledge, added stress on remaining team members who must pick up extra work, a negative impact on office morale, and much more.

When you partner with a PEO, you get more than HR administration, benefits, and payroll services. You also get a team of HR experts who can help you determine what's causing employee turnover. Through culture assessments, employee surveys, improved recruiting strategies, and more, G&A Partners can help you implement tools to identify strategies to reduce overall employee turnover.


Is administering benefits, such as carrier file feeds, online enrollment, and answering employee benefits questions, keeping you from other tasks?

Offering benefits to your employees comes with often complex and time-consuming tasks related to benefits administration. When you work with a PEO like G&A Partners to administer your benefits, G&A's dedicated team of benefits experts will manage your program efficiently and effectively, drawing on their years of education, training, and experience. G&A's benefits team can help you avoid unintentional missteps that could result in monetary penalties or even litigation.


Do you know the local, state, and federal employment regulations that apply to your company? Are you confident you're compliant with these requirements?

The U.S. regulatory landscape is constantly evolving. Larger companies may have entire teams dedicating to ensuring their companies are compliant, but for smaller professional services organizations, it's often the business owner or an executive who's responsible for knowing and understanding the latest laws and requirements.

When you outsource your HR, you gain a team of HR compliance experts who can help you understand the latest laws and provide assistance in meeting regulatory compliance obligations with federal, state, and local workplace requirements. The result could be avoiding costly lawsuits, claims, and fines.


Is your staff spending time manually collecting and entering time and attendance data?

Manually entering time and attendance data can be tedious and time-consuming for you and your employees. With an HR outsourcing partner by your side, you gain access to the latest integrated technology that automates the process, saves time, and reduces the potential for costly payroll errors. Managers can more easily coordinate work schedules, while your G&A payroll team handles administrative tasks such as payroll tax filing, online payroll submission, garnishment and levy administration, and hew-hire reporting.


Are you struggling to find healthcare plans that fit your budget and meet your employees' needs?

As healthcare costs continue to rise, business owners are actively seeking ways to reduce costs. But prices for healthcare plans on the open market can be expensive – for the business owner and employee.

At G&A, our team leverages the employees of all of our clients to negotiate better, more affordable insurance prices from insurance companies. As a result, we're able to provide a variety of benefit options equal to larger, Fortune 500 companies at prices that won't break the budget.


When was the last time you updated your handbook to reflect new employment legislation?

Maintaining compliance also means implementing policies and procedures to meet certain federal, state, and local workplace requirements, then ensuring your staff is aware of and understands them. An employee handbook outlines policies and expectations for your workforce, so it should be routinely updated to reflect the latest policies and shared with your staff.

G&A's HR experts can help review your handbook and suggest updates or identify gaps to your current policies and procedures. G&A also offers integrated technology so you can quickly distribute the handbook and gather digital employee acknowledgements that they have read and understand the employee handbook.


Is your onboarding process manual or automated? Do your new hires often have incomplete paperwork?

Welcoming a new employee is an exciting time for businesses, but it also requires an onboarding process that ensures necessary paperwork is completed, the employee is enrolled in benefits, the employee is added to payroll, and much more. Onboarding through manual processes can increase the overall time it takes to complete the process or lead to unfinished tasks, which leaves less time for making sure your new employee feels welcome and engaged from day one.

When you outsource your HR with a PEO such as G&A Partners, manual processes will become automated with a streamlined, digital onboarding process so new hires don't miss an important form or forget to acknowledge the employee handbook. G&A's onboarding system can be integrated with other technology solutions, so your new hire can be on the clock and on the payroll with little to no additional effort.


Do you have qualified internal resources to manage multistate mandates with remote workers?

Remote workforces are becoming increasingly popular amongst professional services firms, but managing workers in multiple states comes with unique challenges. For each employee working in another state, for example, your company must abide by employment laws in that state.

Yet, keeping up with employment laws for even one location is difficult, with federal, state, and local workplace laws constantly evolving. Partnering with G&A is one of the most effective ways to help ensure your business is complying with employment laws in multiple states. G&A's compliance team stays up-to-date on the latest workplace requirements across the United States and will provide assistance in meeting those requirements.
Outsource HR For Your Professional Services Business with G&A
G&A Partners offers access to HR experts with years of experience helping businesses develop their employees, improve their workplace cultures, implement new HR processes and procedures, and more. Schedule a consultation with one of our trusted business advisors to learn more.