Bridging The Generational Gap
The makeup of the American workforce is changing.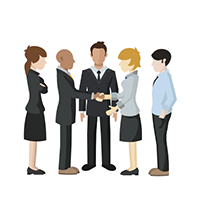 Today one-in-three American workers are Millennials. In fact, millennials, those born between 1981 and 1997, recently surpassed Boomers and Gen Xers to make up the largest percentage of the U.S. labor force.
Having so many generations represented in the labor force presents quite the challenge for employers and HR professionals: How do you effectively manage a workforce with a 50 to 60 year potential age gap between your youngest and most senior employees?
John W. Allen, G&A Partners' president and COO, tackled this topic in an article for Smart Business Houston in August. Check out his advice for capturing the institutional knowledge of the most senior employees before they retire and preparing the next generation of employees for the challenges of management:
Hire with the future in mind.
Identifying and developing talent within younger generations will be critical as Boomers retire. That starts with hiring the right candidate — someone who is both capable of meeting the immediate demands of the job and also possesses the mental aptitude to assume a leadership role down the road.
Objectively assessing candidates' skills, offering training programs, conducting regular performance evaluations and providing workplace perks and benefits that match a new set of needs and values can help companies recruit and develop Millennials who will grow to be productive contributors to the organization.
Build multigenerational project teams.
As a group that values connection and collaboration, Millennials should appreciate the opportunity to learn from their predecessors. And by assigning Boomers the role of "coach," organizations can acknowledge their successes and even re-energize their careers at a time when motivation may be waning. Bridging generations will also make Boomers uniquely qualified to identify those most capable of succeeding them.
Institute a knowledge management system.
Smart business owners would never leave an unlocked chest of cash in the lobby where anyone could walk off with it, so why would they let the treasure trove of knowledge held by Boomers walk out the door? A knowledge management system prevents the potential for brain drain by allowing companies to aggregate the collective knowledge of employees and store it in a way that is accessible and shareable.