G&A Partners honored at 2017 Stevie Awards for great employers
HOUSTON, September 28, 2017 (Business Wire) — G&A Partners, a leading national professional employer organization (PEO) and HR outsourcing provider, was named the recipient of multiple awards in the second annual Stevie Awards for Great Employers.
The Stevie Awards for Great Employers recognize the world's best employers and the human resources professionals, teams, achievements and HR-related products and suppliers who help to create and drive great places to work. Nicknamed the Stevies for the Greek word meaning "crowned," the awards were presented to winners at the Marriott Marquis Hotel in New York on Friday, September 22. More than 500 nominations from organizations around the world were submitted this year for consideration in a wide range of HR-related categories, including company, team and individual awards.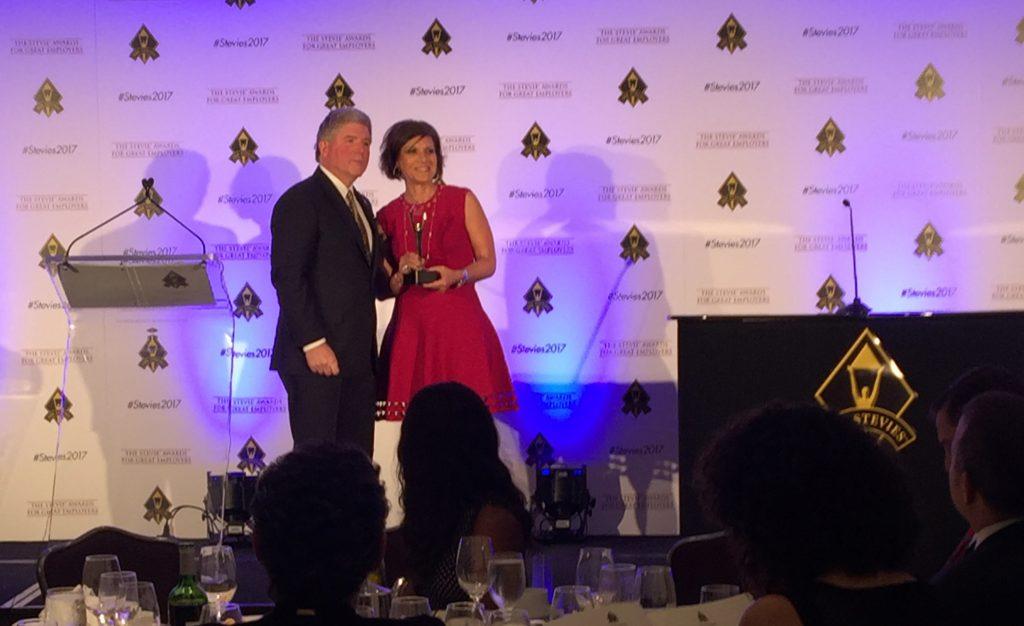 Kim Traylor accepts G&A Partners' Gold Stevie Award in the category of Workplace Health & Wellbeing from Stevie Awards founder and president Michael Gallagher.
G&A Partners was named the Gold winner in the Achievement in Workplace Health & Wellbeing category in recognition for the success of its corporate employee wellness program, EVOLVE, and a Bronze winner in both the Achievement in Employee Engagement – The Americas and the Achievement in Workplace Design (100+ employees) categories, for its successes with its employee Net Promoter Score (eNPS) program and the design of its new corporate headquarters in Houston, Texas, respectively.
"G&A Partners is proud to have been recognized as a top employer by the Stevie Awards for Great Employers," said Tony Grijalva, chairman and CEO, G&A Partners. "These awards reflect our desire to have the best people working for us, as well as our commitment to reward the great team of individuals that we've built here."
More than 50 professionals worldwide participated in the judging process to select this year's Stevie Award winners.
About G&A Partners
G&A Partners, one of the nation's leading professional employer organizations (PEO), has been helping entrepreneurs grow their businesses, take better care of their employees and enjoy a higher quality of life for more than 20 years. By providing proven solutions and technology in the areas of HR compliance, employee benefits, payroll administration and workplace safety, G&A alleviates the burden of tedious administrative tasks and allows business owners to focus their time, talent and energy on growing their company. Headquartered in Houston, G&A Partners has offices throughout Texas, as well as in Arizona, Minnesota, Utah, and Latin America. Learn more about G&A Partners at www.gnapartners.com.
About the Stevie Awards
Stevie Awards are conferred in seven programs: the Asia-Pacific Stevie Awards, the German Stevie Awards, The American Business Awards, The International Business Awards, the Stevie Awards for Women in Business, the Stevie Awards for Great Employers, and the Stevie Awards for Sales & Customer Service. Stevie Awards competitions receive more than 10,000 entries each year from organizations in more than 60 nations. Honoring organizations of all types and sizes and the people behind them, the Stevies recognize outstanding performances in the workplace worldwide. Learn more about the Stevie Awards at www.stevieawards.com.