Interviewing For A Job Within Your Current Company
Your next big career move might be closer than you think
Bonnie Scherry, G&A Partners' director of Corporate HR, recently shared her best tips for interviewing for a job within your current company with Nicole Fallon of Business News Daily.
Moving Up: Interviewing for a Job Within Your Current Company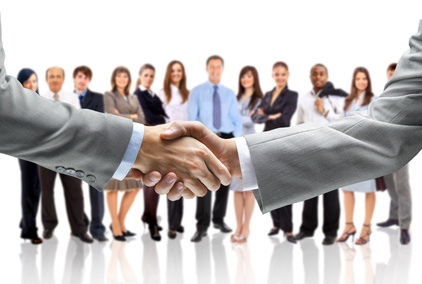 When it comes to your job search, the grass isn't always greener on the other side. In fact, your next career opportunity could be one that's within your existing company.
Depending on your current employer's growth plans, there may be a chance for you to climb the ladder, make a move to another department or perhaps even occupy an entirely new position. Regardless of the circumstances, you may have to undergo a formal interview process – with your current colleagues and HR manager.
"Internal candidates tend to forget that they are still competing for the opportunity," said Marina Konchak, director of human resources for early education franchise The Learning Experience. "The ultimate goal is to hire the best possible candidate for the job, so treat the interview just as any other candidate would."
However, because of your existing knowledge of the company, its goals and its people, you do have a key advantage as an internal job candidate. The trick is to find the right balance of humility and confidence during the interview.
We spoke with HR and hiring experts for their best advice on acing an interview for an internal career opportunity.
1. Ask your manager's permission before applying
Your manager may have mixed emotions about you looking for a new opportunity, even if it is within the company. While they should be supportive of your career development, you leaving means your manager will have to make adjustments and accommodations on their current team.
Out of respect, you should get your boss's explicit permission before indicating your interest to anyone else about the new position.
"Be open and honest with your immediate supervisor," said John Covilli, senior vice president of franchising for the Americas at Dale Carnegie Training. "Not only is this person privy to information that you may not be, like managerial insight, company moves, staffing decisions, etc., but they're also familiar with your portfolio of work and can be one of your best references. Having an open discussion … reflects favorably on your commitment to the company, and lends insight to whether or not the move is right for you."
Phil Shawe, co-CEO of translation services provider TransPerfect, added that if you can't approach the move with your manager's consent, you're better off passing on the job.
You should also be sure you're not looking to make a change for change's sake, said Shawe. Ask yourself if this role is truly the right step forward in your career, or if you're simply unhappy with something in your current position.
"Often times the core issue of dissatisfaction or longing for something different comes from something that won't change with a change of scenery," Shawe said. "Before you make a change, make sure you've exhausted addressing any unmentioned issues or wants with your current manager – and make sure you make the change for the right reasons."
One final consideration should be the timing of your move. If your team is right in the middle of a massive project or your boss is having a particularly busy day, it may not the best time to mention you'd like to make a change, said Bonnie Scherry, director of corporate HR at G&A Partners.

"Instead, let [your boss] know that you have something you'd like to talk to them about and ask for some time on their calendar later in the day or week to discuss it in private," she added.
2. Keep your potential move under wraps (for now)
Many people have very close friendships with some of their coworkers, said Scherry, and it may feel natural to confide in your work friends about your idea and seek their advice. But telling colleagues about your intention to apply for another internal position can be tricky.

"Declaring your intentions to apply for an open position beyond your boss or closest work friends probably isn't a good idea," Scherry said. "What happens if you don't get the job? When you have the initial conversation with your boss, you may also consider asking … when [or] if you should bring it up with other members of your team."
3. Be confident, but not casual
As an internal candidate, you have the advantage of first-hand experience with the company, said Matthew Jonas, president of TopFire Media. You should share improvements that you can bring to the new position and/or department, but make sure you do so with respect.
Covilli also noted that you don't want to approach this interview too casually because you already know the company and your interviewers.
"There's a certain comfort level with your current employer, but it doesn't mean that you should walk into the interview any less prepared than you would an external opportunity," he said. "In fact, you should be more prepared because of your familiarity with the company. An outside applicant isn't going to know every intricacy of the operation. However, you lose that margin in an internal interview, and are held to an even higher standard during the process."
Similarly, Konchak said you shouldn't assume the interviewer knows what you're talking about: Structure your answers as if that person knows nothing about you or your current role, she said. You should also make sure you're talking about past accomplishments prior to this position, just as you would in any other interview.
"Past experience is valuable and allows you to showcase competencies beyond your current role," Konchak told Business News Daily.
"Highlight[ing] past accomplishments that have directly contributed to the long-term mission of the company … can go a long way in emphasizing a continued dedication and loyalty to the organization," added Jonas.
4. Handle any transitions with respect and sensitivity
If you do land the position, you'll likely be eager to dig into your new role right away, but you can't lose sight of what your departure means for your current team. Although you're not leaving the company, your old department still needs to find a replacement for you.
"Make the passing of the baton as smooth as possible by organizing any files that will be useful, or if you have the opportunity, spend some time one-on-one with [your replacement] to give them the best chance at adjusting successfully," Jonas said. "Not only is this the respectable thing to do, it shows that you genuinely care about a seamless transition that keeps the wheels churning."
Scherry said to remember that the transition likely isn't going to be immediate. In fact, you might be asked to straddle two roles for several weeks until your old position can be filled. Depending on your previous role, it may take even longer than that for co-workers to stop coming to you with questions related to your old role.

"These requests may be frustrating, but try your best to not let them get to you and be a team player," said Scherry. "You'll be able to focus on all your energy on your new role soon enough."
It's also important to consider whether there were other internal candidates up for this position, and if so, how they might feel knowing they lost out on the opportunity. Be thoughtful in the way you communicate the change to your colleagues and supervisors to ensure that you're not stirring up any resentment.
"[Communication is] especially important when considering something as sensitive as a position change, especially if it's a transition to a leadership role," Covilli said. "Remember that you're likely among many internal candidates vying for the position, so be cognizant and courteous to those people, in victory or defeat."
This article was originally published on August 2, 2017, by Business News Daily. Click here to view the article on the Business News Daily website.