The Evolution of Office Culture—Adapting After COVID-19
The global coronavirus pandemic has caused every business to review its work-from-home policies and revise them according to the "new normal." If employees can work efficiently and effectively while driving the business forward, why mandate working from a brick-and-mortar location?
G&A's Vice President of Corporate HR, Michelle Mikesell, (virtually) sat down with Reader's Digest to contribute to the article, "What Office Culture Could Be Like When Lockdown Is Over."
The article delved into many different aspects of life post-pandemic such as more teleconferences, fewer public transportation users, more judgement for coming to work sick, etc. Mikesell was quoted on her advice to employers for "more transparency from leadership."
"I think the biggest challenge in going back to work is not for the worker, but [for] the business leaders," she said. "Supervisors, managers, and executives need to communicate consistently and openly more than ever before. If your teams have become accustomed to hearing from you in morning huddles, virtual updates, and regular online meetings, leadership cannot return to sharing information only on a 'need to know' basis."
Mikesell further explained that G&A Partners has fully embraced the ability to be nimble and flexible while working remotely and social distancing.
"We have all learned new ways to communicate and share information," she told Reader's Digest. "At G&A Partners we connect with our employees daily to keep them updated on the business and to share stories of how we are all adjusting to this new environment. We cannot return to an eight-to-five schedule at the office and expect things to be just as they were before we left."
Now is the time to innovate and adapt. Mikesell advises business leaders to provide employees working remotely with clear expectations while continuing to set and measure goals.
"Our workforce has proven beyond a shadow of a doubt that they can work remotely and keep the business running," she said. "Unless it's an essential function of the job, the longitude and latitude of an employee's desk should not matter."
What do you think the office will look like once stay-at-home orders are lifted?
The Reader's Digest article offered different opinions on whether employees would likely embrace the opportunity to return to their offices or would prefer to continue working from home or another remote locale. Workplace cultures established before the pandemic will likely change to some extent, according to the article, but Mikesell said she's confident her company's culture will survive and thrive.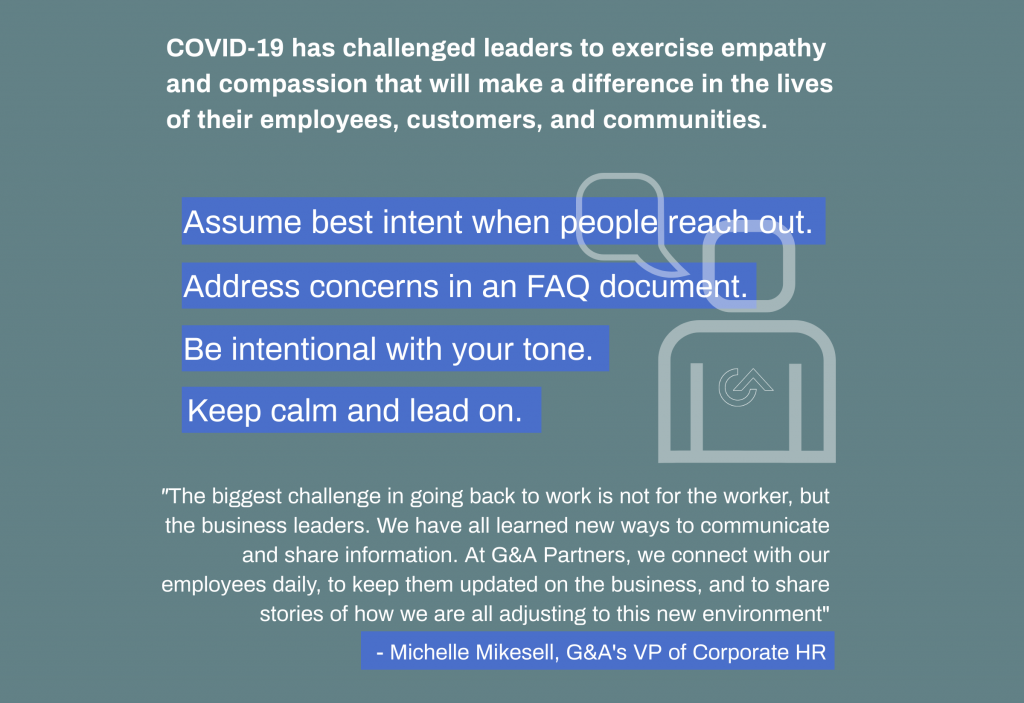 "At G&A Partners, our culture is our employees, and our culture has never been stronger," she said. "We have learned more about the people we work next to every day while viewing them through the lens of a zoom meeting, and it has created a powerful bond."
Mikesell said she hopes employers and business leaders will "remember the human side of their work" after operations return to some semblance of normal.
"Be patient. Listen. Acknowledge that there may be fear and provide time to adjust to working side by side," she advises. "Find more opportunities for the workforce to come together and share their thoughts (with enough distance to keep everyone comfortable)."
Download our full infographic to learn more about how to manage your team during this transition.