G&A HR Blog Re-Design – New Face, But Same Great Content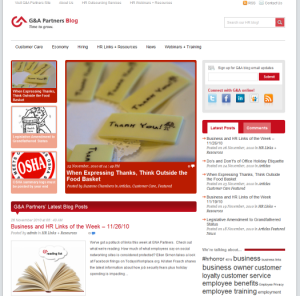 Notice something different? A new haircut? A new pair of shoes? Nah, it's our new G&A Partners HR blog re-design!
G&A Partners is re-vamping our online blog space to focus on relevant HR topics, business growth practices and industry news. As always, our blog will serve as a go-to resource for businesses wanting to stay informed about recent industry news, HR legislation and topics.
Stay tuned for our weekly HR and business links worth reading posts to learn what the G&A Partners HR team is learning from, stay connected to actionable info on hiring best practices, employee management tips and other insightful information from President John Allen and the entire G&A Partners staff.
Drop us a comment and let us know what you'd like to talk about – and thanks for stopping by our pretty new Blog home!