Promoting a Positive Culture in a Hybridized Workplace
Webinar Recap
The "Great Reopening" of America's workplaces is underway, and for many companies, that means embracing a new – or revamped - hybrid business model that could impact company culture. More than 80% of participants in a "Work from Home Policies and Practices" survey by executive compensation firm Pearl Meyer said their organization's shift to remote work during the pandemic had been successful, and nearly 40% reported an increase in productivity. That bodes well for companies that will continue their remote work trend. It also signals the need to take proactive steps so that your company culture embraces the hybrid model and promotes a positive experience for all employees - when they are in the office or working remotely.
Amy Turner, SPHR, Manager, HR Advisory Team, Strategic Client Services for G&A Partners, said employers have the right to require employees to return to work in person, whether full-time or according to a hybrid schedule. She recommended utilizing gradual and flexible strategies to help them ease back into office life. "There was an adjustment period when employees started working from home during the pandemic, and there will be an adjustment when they return to the office, whether a few days a week or more," Turner recommended during our latest webinar, Promoting a Positive Culture in a Hybridized Workplace. "Your employees have experienced a lot in the past 18 months. They need to reconnect with each other and with your company vision, mission, and values."
Turner made several recommendations about how to foster company culture moving forward. In this webinar, you can:
Acquire tips on communicating changes in your workplace business model, new and revised policies and procedures, and your on-the-job expectations for employees.
Discover new ways to encourage individual and team collaboration in a hybrid environment so that employees thrive, and productivity remains high.
Learn work-from-home best practices that you can adapt and apply in your workplace.
Take away ideas or "Monotony Breakers" that help you reenergize employees, such as using new apps or tools to make meetings more interactive and enjoyable.
Identify innovative practices for onboarding and training new hires in a hybrid work environment so they feel welcome and part of the team.
Amy also said that employee engagement and morale have taken a hit during the pandemic, so it is crucial to reach out to your employees individually to find out what challenges they have experienced and what they need from you to be successful moving forward. She shares excellent advice on how to reengage your team.
You can view the presentation or access the full webinar recording above. It has been pre-certified by the Human Resources Certification Institute (HRCI) and The Society for Human Resource Management (SHRM) for one hour of HR general recertification credit. Check out G&A's How to Champion Your Company's Culture in a Hybrid Workplace article for additional tips on cultivating company culture.
If you have additional questions after viewing the presentation or need help tackling your HR needs, let's talk soon. For other resources, go to G&A Partner's website and submit questions to info@gnapartners.com.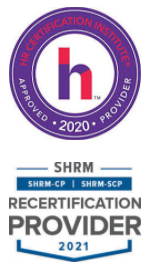 HR Certification Institute's® (HRCI.org) official seal confirms that G&A Partners meets the criteria for pre-approved recertification credit(s) for any of HRCI's eight credentials, including SPHR® and PHR®. For more information about certification or recertification, please visit hrci.org.

G&A Partners is recognized by SHRM to offer Professional Development Credits (PDCs) for the SHRM-CP® or SHRM-SCP®. For more information about certification or recertification, please visit shrmcertification.org.
The use of this logo is not an endorsement by the HR Certification Institute of the quality of the program. It means that this program has met the HR Certification Institute's criteria to be pre-approved for recertification credit.
About Us
G&A Partners is a leading professional employer organization that offers world-class HR services and a team of experts who can help you navigate employment issues and initiatives such as diversity, equity, and inclusion. Please schedule a consultation with one of our knowledgeable business advisors to learn more.