7 Questions To Ask Before Choosing A PEO
When it comes to finding an efficient and cost-effective solution to human resources, you really can't beat the value of a professional employer organization (PEO). Whether you're looking for an all-encompassing solution to your HR needs or something to supplement your current people and processes, PEOs are able to offer products and services that address all of a company's specific needs while also minimizing costs, reducing risk and increasing productivity.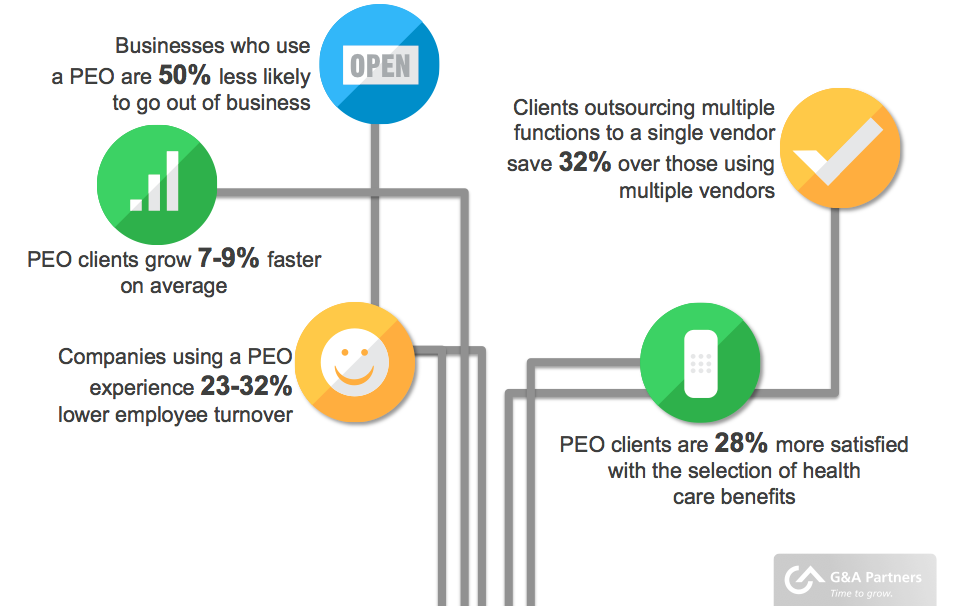 In a PEO arrangement, a business enters into a co-employment relationship with a PEO provider, giving the PEO the authority to act as the "employer of record" for the company's employees. This allows the PEO to perform employment-related tasks on the client's behalf and assume much of the administrative responsibilities and liabilities associated with carrying employees, and, in turn, allows PEO clients to focus their time and energy on growing their business. Check out the graphic below to see some of the benefits PEO clients experience:
If you've decided that partnering with a PEO is the next step for your business, congratulations! You'll soon be enjoying many of the benefits listed above. But before you sign on the dotted line, here are seven questions you need to ask a PEO in order to make sure they're the right partner for your business:
What exactly will I be paying for?
Most PEOs charge for their services in one of two ways: either as a percentage of total payroll (typically between 3-8 percent), or as a flat per-employee-per-year (PEPY) fee. In both of these cases, the exact price or rate will often depend on which pre-set bundle of services you select. Before signing on the dotted line, however, make sure you know exactly what you're getting. Ask to see the package broken down into line items, that way you'll more clearly see what services you are, and are not, getting in the deal. If a key service you're looking for (like Affordable Care Act compliance assistance, for example) isn't listed, you may need to go back to the drawing board.
What kind of service can I expect?
When you hire a PEO, they function as an extension of your business. As the employer of record for your employees, it's your PEO's job to be there to answer your questions, as well as your employees' questions, about employment-related matters. That's why it's important to know who will be servicing your account on a day-to-day basis. Will you have an assigned HR advisor? Will you have an employee benefits specialist available to take your calls? Who will your employees contact if they forget how to reprint their W-2? While these may not seem like crucial questions during the initial process of selecting a PEO, understanding how your relationship with your PEO will work can have a huge impact on the success of that relationship in the future.
What kind of technology or software does your company provide?
One of the many perks of partnering with a PEO is gaining access to new and upgraded human capital management technology. Make sure to ask about what technology they offer, particularly if you'd like to continue using programs that you've already purchased, or if you have specific technology needs in mind.
Do you provide training or professional development for my employees?
Human resources encompasses more than just payroll and benefits administration. Professional development and employee training opportunities are not only attractive to potential candidates; they also allow you to maximize the potential of your current workforce. If this is an important aspect of your organizational culture, you'll want to make sure that your PEO offers these services as well.
What kind of employee benefits plans are available?
The most sought-after employers know that today's top talent is looking for more than just a paycheck – they want to have the best possible employee benefits package at the lowest possible rates. That means a great selection of top-tier health insurance plans, a killer savings plan, corporate wellness programs, life insurance, etc. Prior to choosing a PEO, inquire about which carriers they partner with and what kinds of plans they're able to offer to make sure you'll be able to put together a benefits package that meets your employees' needs, expectations and lifestyles.
What is my role when it comes to taxes and regulatory compliance?
Since your PEO will become a co-employer for all of your employees, they will assume both the liability and responsibility for managing and reporting your employees' payroll and unemployment taxes. In addition, the PEO also assumes much of the responsibility for ensuring that your employees are covered and protected under a whole host of state and federal labor laws.
What's your reputation?
This is perhaps the most important question you should ask before you hire a PEO. Do you research, and make sure you know who you are going to be doing business with. Find out how long they've been in business with, what their clients say about them, and what their presence is. Whether you're looking at hiring a national PEO company, or a local PEO company, you'll need to know that they have a solid business. Ask to see audited financial statements, ask about federal, state and local licenses and accolades, and inquire about any accreditation they've received.
Conclusion
Choosing the right PEO is all about vision. You want to make sure that the PEO you choose understands your vision for your company, and has presented a plan of action that will help you achieve those goals.
For more information about hiring a PEO, click the link below to download the PEO Purchasing Guide, a comprehensive report that walks you through the purchasing process from start to finish!
Download the PEO Purchasing Guide now!
If you're looking for a trusted PEO partner that offers outstanding service, top-tier employee benefits plans and more than 20 years of HR experience, look no further. As a leader in the PEO and HR outsourcing industry, G&A Partners specializes in partnering with business owners like you who are in need of additional back-office support to design solutions that put time back in your hands – time to grow your business, time to develop new products, and time to spend with family and friends. Learn how G&A Partners can help you achieve your business goals by calling 1-866-634-6713 or schedule a free business consultation.