G&A Partners named one of Inc. magazine's 'Best Workplaces for 2020'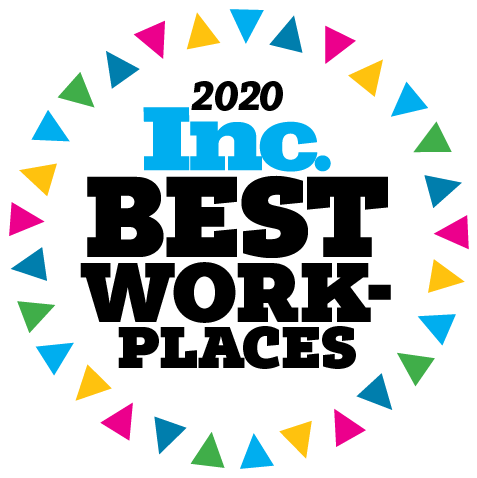 HOUSTON, May 6, 2020 – G&A Partners, a leading national professional employer organization (PEO) and human resources outsourcing (HRO) provider, was named to Inc. magazine's annual list of Best Workplaces for 2020.
The list, which will publish in the magazine's May/June 2020 issue, features top American companies that have created exceptional workplaces through vibrant cultures, deep employee engagement, and stellar benefits.
G&A Partners was one of 2,500 companies to participate in the employee survey conducted by Quantum Workplace. The survey was sent to G&A's nearly 400 employees who were asked to rate G&A on topics including trust, management effectiveness, perks, and confidence in the future.
Inc. gathered, analyzed, and audited the data before ranking all of the employers using a composite score of survey results. This year, 73.5% of employees working for the 395 finalist companies surveyed said they were engaged by their work.
"The strongest engagement scores came from companies that prioritize the most human elements of work," Inc. says. "These companies are leading the way in employee recognition, performance management, and diversity. It is a different playbook from a decade ago when too many firms used the same template: free food, open work environments, and artifacts of 'fun.'"
G&A Partners prides itself on having an engaging and transparent work culture. Happy employees take good care of clients, which is why G&A enjoys a 93% client-retention rate and a Net Promoter Score that is 30-times higher than PEO-industry standards.
"At G&A Partners, we recognize that culture is more than a set of beliefs. Our culture IS our employees. It's everything we do to champion every individual's experience through all stages of their employment life cycle. We start by putting people first, ensure they love what they do, commit to creating phenomenal experiences, lead by example, and communicate constantly and openly," says Michelle Mikesell, G&A's Vice President of Corporate HR.
While researching the finalists, Inc. and Quantum saw distinct themes among the standout companies:
100% provide health insurance.
50% allow employees to bring pets to work.
62% take employees to offsite retreats to relax and recharge.
20% offer paid sabbaticals to reward length of service.
"Building a great corporate culture comes only from strong leadership," says Inc. magazine Editor-in-Chief Scott Omelianuk. "The companies on Inc.'s Best Workplaces list are setting an example that the whole country can learn from, especially now, when company culture is more important to the workforce than ever."
About G&A Partners
G&A Partners is one of the nation's leading professional employer organizations (PEO). It has been helping entrepreneurs grow their businesses, take better care of their employees, and enjoy a higher quality of life for more than 25 years. By providing proven solutions and technology in the areas of human resources, employee benefits and payroll administration, G&A Partners alleviates the burden of tedious administrative tasks and allows business owners to focus their time, talent and energy on growing their companies. Headquartered in Houston, G&A Partners has offices throughout Texas, as well as in Arizona, California, Colorado, Idaho, Illinois, Minnesota, Nevada, Utah, Wisconsin, and Latin America.
About Inc. Media
The world's most trusted business-media brand, Inc. offers entrepreneurs the knowledge, tools, connections, and community to build great companies. Its award-winning multiplatform content reaches more than 50 million people each month across a variety of channels including websites, newsletters, social media, podcasts, and print. Its prestigious Inc. 5000 list, produced every year since 1982, analyzes company data to recognize the fastest-growing privately held businesses in the United States. The global recognition that comes with inclusion in the 5000 gives the founders of the best businesses an opportunity to engage with an exclusive community of their peers, and the credibility that helps them drive sales and recruit talent. The associated Inc. 5000 Conference is part of a highly acclaimed portfolio of bespoke events produced by Inc. For more information, visit www.inc.com.
About Quantum Workplace
Quantum Workplace, based in Omaha, Nebraska, is an HR technology company that serves organizations through employee-engagement surveys, action-planning tools, exit surveys, peer-to-peer recognition, performance evaluations, goal tracking, and leadership assessment. For more information, visit www.QuantumWorkplace.com.