State of Employee Benefits for Business Owners
Webinar Recap
A recent poll reveals that a majority of Americans are not confident when choosing their healthcare plans. Those low confidence levels indicate that employees need more awareness and education about plan details, and better education can lead to lowering the overall healthcare costs for business owners and employees. "We can't take for granted that our employees understand the health insurance options we're putting in front of them," said G&A's Director of Beneficial Jenifer Allbright during our latest webinar, "State of Employee Benefits for Business Owners."
Benefits are a priority for employees when they consider whether to stay in their current job or pursue other opportunities with more robust benefit offerings. "Competitive benefits are a top desire of workers, and options such as a strong healthcare package, telemedicine access, mental health support, and voluntary benefits can fit into strategic planning to provide value to employees," said Allbright. Business owners, then, are faced with the challenge of offering benefits that will help attract and retain employees, while also keeping costs manageable for employees and employers at a time when healthcare costs continue to rise.

Allbright emphasized that education and a well-planned open enrollment strategy can help business owners manage those rising costs. A whopping 96% of Americans said in a 2018 Policygenius survey they can't define the four basic terms used routinely in healthcare plans: deductible, coinsurance, co-pay, and out-of-pocket maximum. This lack of knowledge can lead to employees choosing plans that don't meet their needs. Allbright recommended educating employees about their plan options, where to go for services, and the importance of preventative care along with promoting overall wellness. Doing so can help business owners reduce the overall costs associated with benefits.
During the webinar, Allbright offers strategies on how to better educate your employees about the benefits plans and tips to improve your open enrollment process. Here's what you'll learn in this webinar:
Regulation changes in 2023 and how they will impact your benefits plans.
How the needs and wants of our employees have changed in the current market, from remote and hybrid work to mental health awareness to employees' increased focus on benefits.
Strategies businesses are implementing to recruit and retain quality employees and the role benefits packages plays.
Steps business owners can take to reduce overall benefits costs for the employer and employee, such as educating employees on the cost of visiting a physician versus the emergency room or price shopping for prescription drugs.
Best practices for open enrollment, including a planning process that should begin 12 weeks before open enrollment starts.
You can access the full webinar recording above and download the slides here. It has been pre-certified by the Human Resources Certification Institute (HRCI) and The Society for Human Resource Management (SHRM) for one hour of HR general recertification credit. To earn HRCI recertification credit, you must watch the video above in its entirety and follow the instructions to request your credit.
If you have additional questions after viewing the presentation or need help tackling your HR needs, let's talk soon. For other resources, go to G&A Partner's website and submit questions to info@gnapartners.com.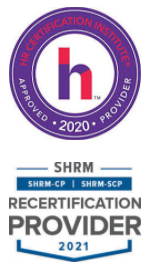 HR Certification Institute's® (HRCI.org) official seal confirms that G&A Partners meets the criteria for pre-approved recertification credit(s) for any of HRCI's eight credentials, including SPHR® and PHR®. For more information about certification or recertification, please visit hrci.org.

G&A Partners is recognized by SHRM to offer Professional Development Credits (PDCs) for the SHRM-CP® or SHRM-SCP®. For more information about certification or recertification, please visit shrmcertification.org.
The use of this logo is not an endorsement by the HR Certification Institute of the quality of the program. It means that this program has met the HR Certification Institute's criteria to be pre-approved for recertification credit.
About Us
G&A Partners is a leading professional employer organization that offers world-class HR services and a team of experts who can help you navigate employment issues and initiatives such as diversity, equity, and inclusion. Please schedule a consultation with one of our knowledgeable business advisors to learn more.