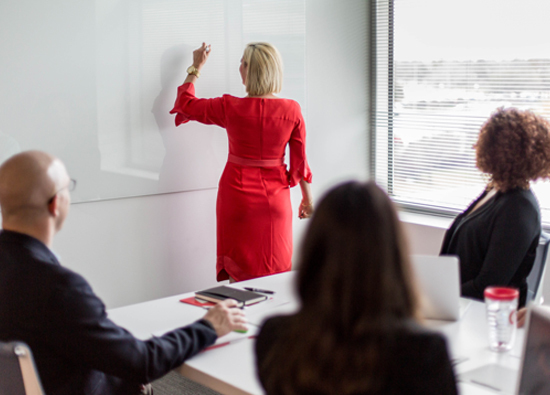 Designing safety plans that mirror unique practices and procedures in your workplace can be your best offense against accidents. The safety experts at G&A can take a deep dive into your organization and customize a comprehensive safety training program that arms your workers with the skills they need to avoid hazardous situations.
Make a habit out of workplace safety
It's easy for employees to become comfortable with their surroundings, particularly if they work in an office environment. Slips, trips, and falls, however, are among the most common accidents in the workplace. G&A's safety training development process helps to educate your employees about everyday hazards and major threats so they can maintain constant awareness and develop workplace safety protocol habits that become second nature.
A solid workplace safety training program starts with employee input
Your employees know your company's processes and procedures better than anyone, and their input is essential to developing a comprehensive safety training program. At the onset of employee safety training development, we work with your managers and employees to identify and document the large and small tasks they execute each day. This allows us to design a tailored program with job- and site-specific safety training protocols.
Developing and auditing your workplace safety program
The daily implementation of safety practices is just as important as the development of a strong safety training plan. To ensure your customized safety procedures are being put into practice, G&A can perform workplace safety inspections and audits and recommend any necessary revisions to your program.
G&A's employee training services include:
Development of a written Employee Safety Manual
Regular safety audits/inspections
Post-audit/inspection safety reports and trainings
Onsite and online safety training materials