Documentation's Role In UI Claims Management
How even a scrap of paper can make the difference in a UI claims appeal.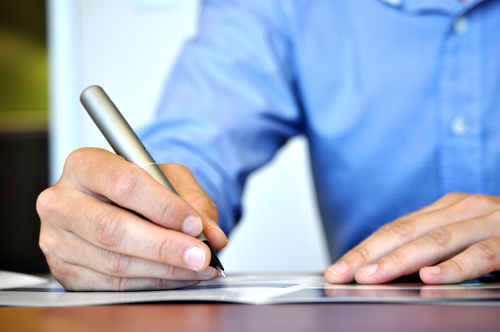 When it comes to human resources management, writing things down — in other words, documenting the activities related to managing people — is imperative. This is especially true when it comes to unemployment insurance (UI) claims.
Jeffrey Martin, G&A Partners' unemployment manager, penned this invaluable advice for employers on the importance of documentation in unemployment insurance (UI) claims management.
The truth is, the state agencies tasked with handling unemployment claims are demanding much more documentation — emphasis on much — than ever before. The requirement to provide extensive documentation hits small- and medium-sized employers the hardest. They're the ones who feel the pain of a UI tax increase the most acutely, because a single UI claim can impact their tax rate for years to come. These mostly mom and pop employers are already guarding their piggy banks desperately; the last thing they need is a bigger tax bill.
So just what kind of extra documentation are state agencies now seeking from employers? In addition to a timelier response to their requests for information, they're asking for details related to an employment separation, particularly any documentation that supports a decision to terminate. This usually includes dates of employment, disciplinary warnings, performance issues, evidence of applicable employer policies, etc. Together, these pieces of information present a persuasive argument in defending an employer's decision to terminate an employee.
Perhaps not surprisingly, separated employees often demonstrate a willingness to fudge the truth or misrepresent events when filing UI claims so as to influence the hearing officer in their favor. They may deny that they ever received a verbal warning, or dispute the events that lead to their discharge. And, without documentation, an employer's word really has no greater value to the state agency than the claimant's.
When state agencies review unemployment insurance claims, they make their decisions based on the following: Claimants can only receive UI benefits on a separation that occurs through no fault of their own. That's why state agencies want to know precisely what triggered the termination. They want information about dates, witnesses and what preceded the discharge.
Related Content: Leading & Letting Go: A Manager's Guide for Terminations
If this information not properly documented, UI hearing officers may well be skeptical about the employer's credibility. This is particularly true when it comes to claims involving discharges, as these tend to merit the most scrutiny from state agencies. With these, the best policy for the employer grows out of this reminder: If it was not written down, it did not happen.
This is where those scraps of paper come in handy. While verbal warnings have some merit, nothing beats having it in writing. Again, the UI office wants documentation. Yes, something formatted and polished would be nice, but if all an employer has is a hastily scribbled sheet of events and repercussions, that will do.
In my many years' experience in UI-related issues representing hundreds of employers, I've seen state adjudicators and hearing officers accept a wide range of written documentation, including mere spare scraps of paper. These may not have looked like much, but they were enough to persuade the hearing officer to rule in favor of the employer I was representing.
The need for impromptu documentation becomes most evident in arenas of progressive discipline. For the small employer, the need to take someone to the proverbial woodshed seldom occurs at a convenient time. Nonetheless, such actions should always be documented. Remember, verbal warnings alone won't help much when an employer has to defend a decision to terminate.
Documenting disciplinary actions
Employers who are new to the idea of documenting disciplinary actions should keep the following tips in mind:
Keep it simple: Explain the specific issue you're documenting in as few sentences as possible. It sounds difficult, but it can be done. Think Twitter, where whole careers have been ruined in as few as 140 characters.
Date, sign and file: Whatever you write down, make sure to date and sign it. I'm convinced that the biggest reason employers experience sophomoric issues within their employment ranks is because they fail to enforce their policies. It's an employer's responsibility to enforce a culture of seriousness when it comes to HR policies and procedures. Sometimes that requires corrective actions — actions intended to correct rather than punish performance or behavior. Documentation not only helps an employer at a hearing, it reminds employees that the issue in question is serious and that the consequences are correspondingly serious. Once actions have been documented, dated and signed, the final step is to file and store them in a secure manner, ideally as part of the individual's personal employee record.
Always give consequences: Even verbal warnings should include a reference to consequences. Employees must be made aware that an additional infraction may result in termination. A warning note without consequences listed is, for all intents and purposes, no warning at all. The possibility of termination should always be noted on the paper used to document the action.
Related Content: A Manager's Guide for Terminations
While there is no one "best approach" to documenting instances of employee disciplinary and termination actions, I feel safe in saying that not documenting them at all is perhaps one of the biggest mistakes an employer can make. No matter what approach an employer chooses to adopt, I recommend that it be systemized and followed across the organization, and that every supervisor and manager receives training on how to properly document disciplinary actions and terminations. If an employer doesn't feel equipped to do this on their own, they may need to bring in some additional HR expertise, either in the form of an HR outsourcing provider or consultant.
And if none of the steps I've outlined above are possible for an employer, I would, at the very least, recommend those employers that they start developing the habit of documenting employment actions on whatever scrap pieces of paper are available and employ the practice of writing stuff down.