Incorporating eLearning into Your Employee Training Program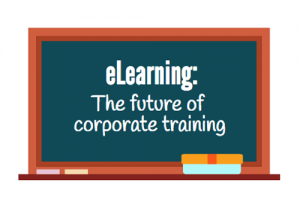 It's estimated that US companies spend more than $70 billion on employee training a year. And with the "skills gap" widening as older employees exit the workforce faster than new employees can fill their shoes, employee development initiatives and corporate training programs have become a priority not only amongst large employers, but small and mid-size businesses as well.
Not every company has tens of thousands of dollars to invest in an employee training program, however. Hiring a full-time training professional or paying for all employees to take continuing education classes or attend conferences is just simply not feasible for a large number of small or growing companies, even as more and more employers recognize the value of professional development initiatives.
Luckily, training content is now more widely available than ever before, thanks to the Internet. The vast array of eLearning content available online – how-to-videos, eBooks, blogs, webinars – has greatly increased access to training and development courses across both an individual and organizational basis. This is great news for employers and HR professionals, because it's now easier than ever to find affordable content to create more robust employee development training programs via online platforms. Everything from legally required occupational trainings (think OSHA or DOT) to communication skills to professional licenses can now be taken online via a wide variety of content publishers and platforms.
When considering how to incorporate eLearning into your company's employee training program or initiatives, you should start by identifying what kind of scale you want your program to have, as well as how much control you want to have in terms of assigning training and tracking progress. Are you looking for resources that employees can use for one-off trainings as needed on their own, or are you looking for a platform that will allow you to assign and track the progress of professional development across your entire company?
If you fall into the first category of wanting to create a more hands-off approach to employee training there are a variety of free and inexpensive online platforms available that would likely meet your needs, like YouTube videos, industry association webinars, Massive Open Online Courses (MOOCs) from top universities and even low-cost subscription services like Lynda.com that provide tutorials on how to do almost anything.
If you're looking for more of a systematic and formal approach to employee training and development, you might want to consider investing in a Learning Management System (LMS) software application that allows you to assign, track and report on employees' learning and professional development progress. LMS applications also often have established partnerships with content publishers and come with access to hundreds or thousands of training videos and programs, and many also allow companies to upload their own custom content.
What to look for in a Learning Management System (LMS)
If you've decided that a Learning Management System is the way to go, you're not alone – there are so many different LMS providers to choose from, with more popping up every year. Don't be swayed by a fancy interface or media write-up however – not all LMS providers are created equal. If you want to get the most bang for your buck with your Learning Management System, here are some things you may want to check:
Is the content mobile friendly?
Employees don't want to be limited to a desktop in order to complete their training. Instead, they want the freedom to access content across multiple devices, including tablets and smartphones. By the same token, you should also verify whether your chosen LMS is accessible on both Macs and PCs.
What kind of assessment features are available?
It's not enough to know that an employee simply watched or clicked-through a training – in order to ensure employees truly engaged with the training content, some sort of assessment feature is critical, whether it's a simple questionnaire or even an end-of-course exam.
Are there any certification or licensing programs available?
While a course on effective listening and communication techniques does have value, courses that offer tangible benefits like certifications or licenses upon completion often provide considerable more value for both employees and employers.
Is the program easy to use?
In order to ensure your company gets the highest adoption rate amongst employees, your LMS needs to be easy to use and navigate.
What kind of reporting features does the program offer?
Measurable results are often the most important aspect of any human capital management technology. Before making your selection, ensure that you're going to be able to run the kind of reports you'll need to track individual performance, company performance, usage and any other metrics or goals you have for your employee development training program.
Conclusion
Employee satisfaction and engagement are critical to building and maintaining a strong performing company, and nothing is more fundamental to generating feelings of satisfaction and engagement than providing your employees opportunities for professional development. Employee development training programs offer those learning opportunities, but many companies don't have the time, expertise or budget to coordinate first-class, relevant instruction and learning programs. That's where G&A Partners comes in.
As a leading provider of Human Capital Management (HCM) technology, G&A has a successful track record of providing scalable technology solutions, including a comprehensive Learning Management System, that meet clients' organizational needs as well as the individual needs of their employees. Learn how we can help you train and develop your employees by calling 866-634-6713 to speak with an expert or schedule your free business consultation.