CEO John W. Allen featured in latest NAPEO PEO Insider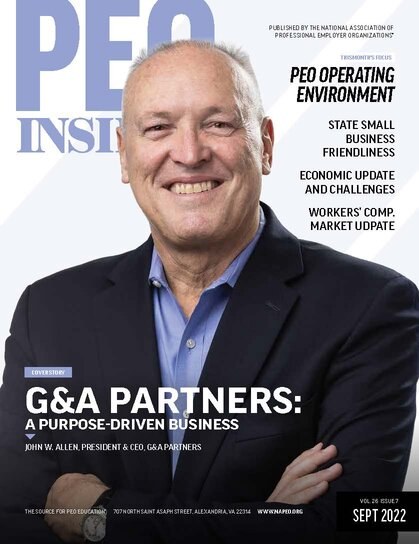 G&A Partners CEO John W. Allen shares the winding path that led him to accounting, when the PEO industry caught his eye, and how being a destination workplace is key to the company's success in PEO Insider's September cover story.
Allen's profile appears on the cover of the National Association of Professional Employer Organization's official publication.
The article chronicles how Allen made his way from roofing in Las Vegas to working as a certified public accountant in Houston, where a lunch meeting with former colleague Tony Grijalva would lead to the pair starting a new business.
"By the end of lunch," Allen says, "we were business partners."
Though Allen and Grijalva began in the accounting business, the PEO industry piqued Allen's interest as he learned more during a conference he helped organize for manufacturing businesses. Eventually, Allen and Grijalva would leave accounting and staffing behind to become a PEO. Though the company experienced many changes in those early years, one aspect remained the same.
"We've always been focused on our people and creating a family-like environment," Allen says.
"Our goal is to be a destination workplace, where people want to work, not where they have to work," Allen says. "If we focus resources on attracting, retaining, and growing the best employees possible, everything else takes care of itself."
As G&A Partners has grown into a thriving PEO with clients throughout the country, Allen says they made the purposeful decision to scale and grow beyond their initial vision.
"To remain competitive in the marketplace, we had to invest in people and technology and had to improve processes, all of which is expensive," Allen says.