G&A Partners Named One of Houston's 2021 Top Workplaces
G&A Partners has been ranked one of Houston's Top Workplaces for the third time in four years. Out of 65 companies listed in the midsize category, G&A was ranked No. 13 on the Houston Chronicle's Top Workplaces list. The firm has been recognized on this list in previous years including 2017, 2018, and 2019. G&A Partners was also honored as a Top Workplace on the Salt Lake Tribune Top Workplaces list for the first time earlier this year.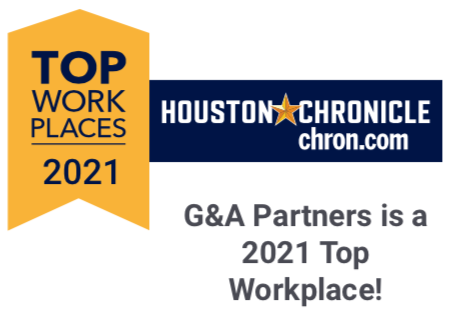 The award is based solely on employee feedback gathered through a third-party survey administered by employee engagement technology partner Energage, LLC. The anonymous survey measures 15 culture drivers that are integral to the success of the organization including development, innovation, and direction, among others.
According to one respondent of the survey, G&A's "ongoing commitment to people and culture, despite the tremendous growth over the years" is part of what makes their job better than expected.
Another employee said they'd recommend G&A as a great place to work to colleagues because "the company has great leadership and strong values. I have always felt appreciated as an employee and I love how much upper management cares about hearing from us."
The Houston Chronicle invited 3011 employers in the city to distribute the survey but only 175 companies were honored among the newspaper's Top Workplaces in 2021.
"We are always proud to be recognized as one of the city's top workplaces," said John W. Allen, President and CEO of G&A Partners. "Despite the challenging year that everyone faced during the pandemic, it's always great to hear our employees are still loving what they do. As a business, we've had to pivot our practices to ensure our employees are feeling comfortable and supported. This accolade validates that what we have done is working and that our employees continue to feel empowered to create phenomenal experiences for our clients."