G&A Partners Named One Of Utah's Healthiest Worksites
G&A Partners wins UWWC Platinum Award for the second consecutive year
UTAH – May 3, 2019 –G&A Partners was recognized as one of Utah's healthiest employers by the Utah Worksite Wellness Council (UWWC) as part of its annual Healthy Worksite awards.
G&A Partners had previously received the Platinum Award in 2018, along with the Wellness Innovation Award for its commitment to incorporating social wellbeing into its wellness program, and has consistently been ranked among the healthiest employer by UWWC since 2015.
"We were absolutely thrilled to win the Platinum Award at this year's Utah Worksite Wellness Conference," said Olivia Curtis, G&A Partners' Wellness Specialist. "To maintain the high rates of satisfaction, participation, and success of our wellness program, Evolve, we are always striving to improve. Winning the Platinum Award this year meant adding in additional wellness interventions and augmenting the programs we already had in place to put a special emphasis on environmental and social wellness."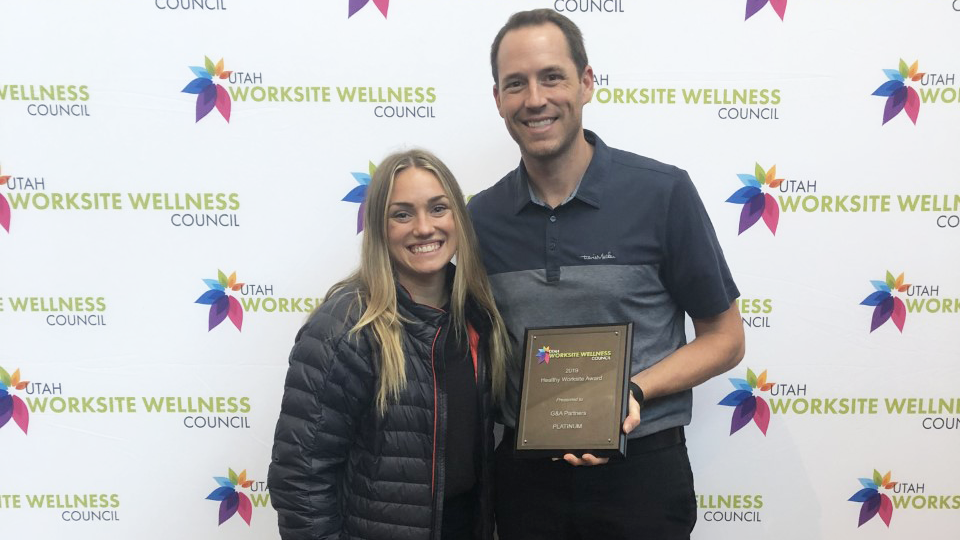 According to Curtis, incorporating multiple dimensions of health remains one of G&A Partners' biggest goals when it comes to developing its worksite wellness program.
"Moving forward, we plan to continue acting on the employee feedback that we receive and strive to appropriately address their wants and needs to further aid in improving their health, happiness, and overall quality of life. I am extremely excited about where this program is heading, and we look forward to seeing even better results in the coming years."
About G&A Partners
G&A Partners, one of the nation's leading professional employer organizations (PEO), has been helping entrepreneurs grow their businesses, take better care of their employees and enjoy a higher quality of life for more than 20 years. By providing proven solutions and technology in the areas of human resources, employee benefits and payroll administration, G&A Partners alleviates the burden of tedious administrative tasks and allows business owners to focus their time, talent and energy on growing their companies. Headquartered in Houston, G&A Partners has offices throughout Texas, as well as in California, Colorado, Illinois, Minnesota, Utah, and Latin America.
About the UWWC Healthy Worksite Awards Program
The Utah Worksite Wellness Council (UWWC) Healthy Worksite Awards Program recognizes Utah employers for their exemplary work in worksite wellness and those committed to improving employee health and well-being. The Awards program showcases employers of all sizes on their worksite health promotion and wellness program. We acknowledge efforts to facilitate and encourage employee health, enhance productivity and ensure a healthy work environment.