G&A Partners Wins UWWC Wellness Innovation Award
For the second year in a row, G&A Partners was recognized by the Utah Worksite Wellness Council (UWWC) as one of the state's healthiest employers.
In 2015, G&A earned a Gold Healthy Worksite Award for its commitment to promoting health and wellness in the workplace. This year, in addition to receiving the prestigious Platinum award, G&A Partners was also the winner of this year's UWWC Wellness Innovation Award. Given to just one organization in the state of Utah each year, the Wellness Innovation Award recognizes employers who are "leading the development and implementation of innovative and effective programs that improve employee health."
On March 3, Olivia Curtis, G&A Partners' wellness specialist, accepted the award on G&A's behalf. Curtis was instrumental in shaping the success of G&A's corporate wellness program, EVOLVE, as well as helping G&A clients develop and implement their own wellness initiatives.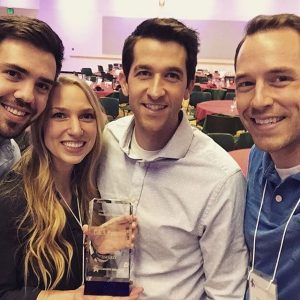 G&A began offering a wellness program to its employees in 2011. Initially, the program started off small, and included initiatives like providing healthy snack options in the break room, subsidizing a portion of employees' gym memberships with monthly stipends, and offering free yearly biometric health screenings. When Curtis was brought on to grow the program in 2014, and has since expanded it to include initiatives that touch each dimension of wellness: physical, mental, social and emotional.
In order to drive participation and increase employee engagement in the program, Curtis organizes monthly wellness challenges that focus on a specific factor contributing to overall wellness. Past challenges have included practicing stress management techniques, increasing daily amounts of physical activity and incorporating more fruits and vegetables into each meal.
"True to G&A's overall organizational culture, the EVOLVE program fosters a sense of collaboration and encouragement amongst all of the employees," Curtis said. "While there is always a healthy amount of competition in the monthly wellness challenges, employees encourage and support each other to achieve their unified goals."
This isn't the first time G&A Partners' wellness program has been recognized. In fact, G&A was recognized as one of the healthiest employers in every market it serves in 2015, and was even named the No. 1 Healthiest Employer in its category in both Houston and San Antonio, the No. 3 Healthiest Employer in its category in Austin, and the No. 5 Healthiest Employer in its category in North Texas.
As an HR outsourcing provider, G&A Partners takes special pride in having its wellness program so widely recognized.
"Human resources is our business, and we live by the very same HR best practices we recommend to our clients," Bonnie Scherry, G&A's director of Corporate HR, explained. "Having an award-winning wellness program showcases our commitment to not only take excellent care of our employees, but also our clients and their employees."