G&A Partners Named One Of Houston's Healthiest Employers By The Houston Business Journal
HOUSTON – May 18, 2018 — G&A Partners, a leading national professional employer organization (PEO), was named one of Houston's healthiest employers in the small company category (2-499 employees) by the Houston Business Journal.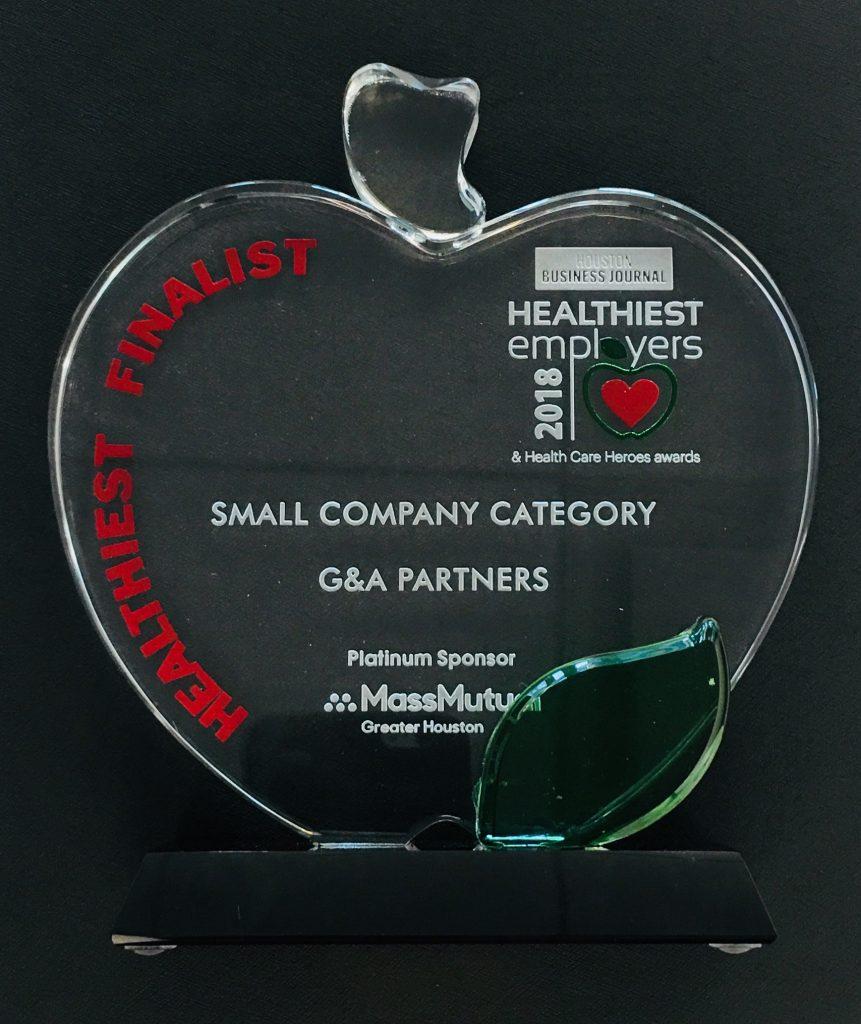 G&A Partners was one of just 30 companies honored for its emphasis on employee health care and wellness offerings at the Houston Business Journal's Healthiest Employers awards breakfast at the Hilton Houston Post Oak on May 17, 2018.
To determine the ranking, a representative from each company was surveyed by a third-party surveying company, Healthiest Employer LLC, an Indiana limited liability company that administered a 75-question survey. The answers were scored in six categories: culture and leadership commitment; foundational components; strategic planning; communications and marketing; programming and interventions; and reporting and analytics.
"G&A Partners' health and wellness programs have become an integral part of our company culture, uniting our corporate employees, departments and remote offices as they work together and support each other toward better health and happiness," said G&A Partners' Wellness Specialist, Olivia Curtis, who oversees the company's EVOLVE wellness program.
"Our company-wide health challenges, in particular, encourage healthy competition and camaraderie as the entire company works toward a common health goal – whether that be increasing the number of steps walked each day, taking the stairs more often or eating more vegetables. We also highlight members of our team who have been particularly successful in achieving their health and wellness goals or motivate others to achieve their own goals. Adopting a health and wellness mindset has also impacted our offices by affecting the selection of snacks offered in the break room, the food ordered for meetings and trainings, the types of employee engagement activities held onsite, as well as the overall layout and design of our offices."
One newer element of the wellness program that G&A Partners is most proud of is its online wellness portal.
"This portal enables us to take a truly comprehensive approach to wellness as it allows us to hold challenges that target every aspect of wellness – physical, mental, social, financial, intellectual, etc.," said Tony Grijalva, G&A Partners' chairman and CEO.
About G&A Partners
G&A Partners, one of the nation's leading professional employer organizations (PEO), has been helping entrepreneurs grow their businesses, take better care of their employees and enjoy a higher quality of life for more than 20 years. By providing proven solutions and technology in the areas of HR compliance, employee benefits, payroll administration and workplace safety, G&A alleviates the burden of tedious administrative tasks and allows business owners to focus their time, talent and energy on growing their company. Headquartered in Houston, G&A has offices throughout Texas, as well as in Arizona, Colorado, Minnesota, Utah and Latin America.