Sneezy Does It: The Paid Time Off Debate Heats Up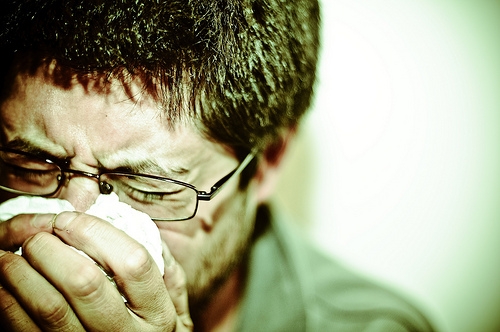 Flu season is here, and Bonnie Scherry is not taking any chances. Every fall, the director of corporate human resources for an HR outsourcing firm arms herself with canisters of disinfectant spray and bleach wipes and marches through the company's Houston office spritzing and swiping cubicles as she goes.
She targets phones, keyboards and other germ magnets, and keeps an ear open for muffled coughing, sniffling and other signs that someone has come to work sick. If they look too ill to work, they are asked to go home.
"After Labor Day, we do a swipe and wipe and throughout the flu season," said Scherry. "I walk around with a big tote of wipes and spray and say, 'Do you want me to wipe your phone or your keyboard?' It's a great engagement tool, and I can see who's sick and who should probably go home."
Yet scores of employees around the country are not staying home when they feel lousy. They are showing up at work with fevers, coughs and runny noses, putting their co-workers at risk of coming down with something, too, according to a recent survey by NSF International, a public health testing group in Ann Arbor, Michigan. More than 1 in 4 employees admit to going to work sick citing fear of losing pay, missing career opportunities or falling behind on a project. Of those who admitted to it, 42 percent said that work would pile up if they called in sick, 37 percent said they need the money, and one-fourth said their boss requires them to work. NSF surveyed more than 1,000 workers during the 2014 flu season.
Their decision is costing both workers and employers in higher medical expenses and lost earnings, in addition to posing a public health risk.
Each year, on average 5 to 20 percent of the U.S. population gets the flu, and thousands are hospitalized and die from flu-related illnesses, according the U.S. Centers for Disease Control and Prevention. This costs an estimated $10.4 billion a year in direct medical expenses and an additional $16.3 billion in lost earnings each year.
Doesn't Pay to Be Sick
For many employees missing work to recover from an illness or care for a sick child means not getting paid. An estimated 40 percent of private-sector workers lack paid sick days, according to the National Partnership for Women & Families.
"It's shocking that America is one of two countries in the world with no paid sick leave," said Sherry Leiwant, co-president of A Better Balance, a national advocacy group that supports paid sick leave laws. "It makes for a better workplace if employees know they can take a day off if they're sick. It's not a huge cost to employers. I have a hard time with businesses pushing back on this issue."
'With paid sick leave, not only do you have to overcome the absence of a worker but you also have to pay them. We're glad that Chipotle and Microsoft and Apple can do it, but it's unrealistic to think that every business can.'
—Jack Mozloom, National Federation of Independent Business
But a growing number of employers and legislators are trying to change that. So far, four states, 19 cities and one county across the United States have passed paid sick time laws, according to A Better Balance. The most recent state to join the list is Oregon, which passed a law in June. And on Labor Day, President Barack Obama signed an executive order requiring federal contractors to provide paid sick leave.
Large employers like fast-food eatery Chipotle Mexican Grill and tech giant Microsoft Corp. also are getting behind the push for minimum sick days. In July, Chipotle began giving all of its employees, including part-time workers, paid sick days, vacation days and tuition reimbursement. And Microsoft announced in March that it's requiring suppliers to give 15 days of paid time off to its full-time employees.
There is no doubt that the U.S. lags behind other countries in providing paid time off for illness or family leave. It is the only wealthy nation in the world that doesn't require employers to provide a minimum of paid sick leave, vacation leave or parental leave, according to The Center for Economic and Policy Research.
Oregon's law, which takes effect on Jan. 1, 2016, is considered one of the more progressive state mandates, providing workers with up to five paid days off that they can use for illness, to bond with a newborn or adopted child, or to deal with the death of a family member. The city of Portland, Oregon, passed a paid sick leave law in 2013.
Andrea Paluso, executive director of Family Forward Oregon, an advocacy group that pushed for the passage of both laws, said that nearly half of private-sector workers in Oregon lack paid sick time and most are in low-paying jobs. Just 29 percent of Oregonians earning less than $20,000 a year get paid sick time compared with 82 percent of those earning more than $65,000.
"We heard lots of difficult stories from people who either work sick or end up not making ends meet or sending sick kids to school that they know should be home," Paluso said. "We also heard from people in HR who talk about the impact on internal health care costs. If you can't get time off to go to the doctor, you're more likely to go to the ER or to delay treatment and less likely to pursue preventive care."
Those in low-wage jobs in retail or food service are particularly hard hit by the lack of paid sick leave. For restaurant workers, who earn most of their income from tips, missing work can mean financial disaster, according to Saru Jayaraman, co-founder and co-director of Restaurant Opportunities Centers United, an advocacy group for restaurant workers. For customers, a health threat lurks with every order.
"Workers who earn a majority of wages in tips will have to go to work to get the tips, and that means many are working while sick," she said. "More than 63 percent of all restaurant workers reported cooking and serving food while sick, thus impacting consumers' health. The CDC would agree that this is a public health crisis."
What About Small Business?
Jack Mozloom, a spokesman for the National Federation of Independent Business, said that many small businesses couldn't bear the cost of providing paid sick days, especially those in the service industries.
"One of our members is an auto mechanic in New Jersey, and he says that in order to make money, 'I must service 700 cars a month, and if two people are down, I can't be profitable,' " he said. "With paid sick leave, not only do you have to overcome the absence of a worker but you also have to pay them. We're glad that Chipotle and Microsoft and Apple can do it, but it's unrealistic to think that every business can."
Many large employers offer paid time off through a PTO bank that provides workers with a set number of paid days off that they can use for vacation, sick time or other personal needs. Under a traditional paid leave system, employers provide sick days separately from vacation days, an approach that began losing favor in the early 2000s in part because tracking and managing two different systems is a hassle, said Caroline Gabriel, senior HR auditor at Crowe Horwath, which helps companies develop their PTO policies.
"About 10 years ago, PTO became more desirable because it's easier to administer," Gabriel said. "Employers didn't need to know why someone is taking time off, and they didn't have to manage and track it. But now they are starting to move away from PTO banks so the trend is evening out."
One reason is cost, according to Charles Thompson, a shareholder at the law firm Ogletree, Deakins, Nash, Smoak & Stewart in San Francisco. In a traditional system, employers aren't required to pay employees for unused sick days when their employment ends, but in many states employers must pay out unused PTO. Employers can't distinguish between vacation and sick leave.
"If my child has a baseball game or the new season of 'Empire' is starting, I can take time off," he said. "And as an employer, why do I care why a person takes the day off? I certainly don't want to have to track that. But the down side is that in some states, if you have PTO days, when employment ends you have to pay out all the accrued PTO. So it comes down to expense vs. administrative ease."
Another reason employers may be rethinking PTO is that employees are often reluctant to use it for sick days, preferring to save the time for vacation, Gabriel said. And that means employees are working when they should be recuperating.
"HR has a dilemma," she said. "They definitely want their employees to stay home and get better, but at the same time managers often expect you to check your email and be productive. And all the mobile apps and technology allows you to work while sick and keeps you from getting better."
If an employer is concerned that someone is risking everyone's health by coming to work sick, they can ask them to leave, Thompson said.
"If you're really concerned that this person is ill and is infecting other people, send them home," he said. "Employers are not required to keep people in a place of business who are sneezing and coughing and infecting everyone. You can tell them, 'Work from home, and I'll pay you for your time."
Employers can also force workers to use their PTO or tap their sick leave, although "different jurisdictions may have different views on this," he said.
At G&A Partners, Scherry doesn't hesitate to send sniffling employees home if she suspects they are contagious.
"For some people, coming in sick is a badge of honor, but we make them take time off," she said. "Almost every company has someone who had perfect attendance at school and wants to prove something at work, but they shouldn't put other people at risk."
This article originally appeared in the November 2015 issue of Workforce Magazine. To read the original article, click here.