6 Common Recruiting Mistakes Every Employer is Guilty Of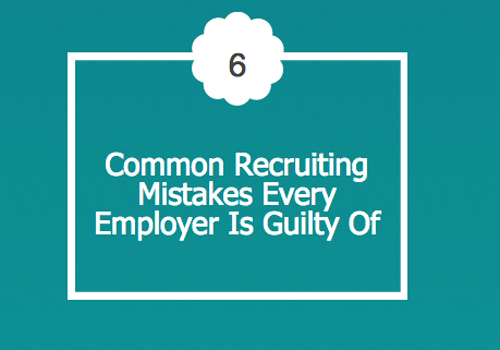 No matter what industry you're in, recruiting top talent is hard to do. And with so many resources easily accessible to job seekers, like online job boards and LinkedIn, that statement is even more true today than it ever was.
Even if you do manage to find a great candidate who passes all of your pre-employment screenings and meets the job requirements, there's no guarantee that you'll be able to get them to sign on the dotted line of an employment contract or job offer. Or, even worse, they do accept your offer only to tell you three days before their start date that they've accepted another job offer.
While you can't control the actions of candidates, what you can do is improve your hiring and selection processes so that when you do eventually issue a job offer, you have a higher rate of offer acceptance. Check out our list of the top six mistakes employers make during the recruitment process:
Being too stiff.
Having too formal of an interview style doesn't give an accurate depiction of the candidate. Creating a more casual environment that encourages candidates to relax will give you a better shot at seeing their true personality.
Not considering the whole package.
When interviewing choosing on skill set alone and not considering cultural fit can be a problem. Hiring someone with a personality that clashes with your corporate culture can seriously impact office morale and put strain on existing business relationships.
Not having the right people in the room.
Make sure the person/people conducting the interview is/are familiar with the day-to-day responsibilities and understand the job. Great candidates want to be able to get a clear idea of exactly what their role would be with a prospective employer. If an interviewer isn't able to answer those key questions about the position, candidates will feel like the whole experience has been a waste of time and that your company is taking the process seriously.
Not delving into specifics regarding required skills.
Everyone says they're proficient in Excel, but many of those same people would be hard-pressed to even conduct a standard VLOOKUP. If your company needs someone who is highly proficient in a particular skillset, make sure you ask them detailed questions about their experience. Even better, ask them to complete a pre-hire assessment that requires them to demonstrate their abilities.
Taking too long to make a decision.
Simply put, you can't make a candidate wait forever to find out whether they've gotten the job. It is essential that employers find a balance in the time it takes to interview and make a decision that works for everyone involved. Highly qualified candidates (i.e. the kind of people you want working for you) are going to have several options in this job market, and may be lost to a competitor that moves quicker in the hiring process. If there's no way to shave down the time it takes to extend a job offer, the least an employer can do is be up-front about the length of the hiring process and do their best to keep candidates informed during the process.
Settling for someone out of desperation.
Above all else, employers should never settle for "ok" talent. If you feel that your applicant pool is too shallow, don't just settle for the least offensive candidate. Instead, widen your net by engaging a recruitment firm or expanding your sourcing efforts. It's much more expensive (not to mention stressful), both in the long and short term, to hire someone you know won't work out than it is to redouble your efforts of finding your next star employee.
Are you tired of losing great candidates to your competition, or extending job offers that never get accepted? It may be time to bring in an expert.
A leader in the human resources outsourcing industry for more than 20 years, G&A Partners offers a recruitment process outsourcing (RPO) solution that delivers high-quality job candidates and measurable results while reducing hiring costs and ensuring that your organization remains in full compliance with federal, state and local regulations at every stage of the hiring process. Schedule your free business consultation to learn more by calling 1-866-634-6713 today!