No matter the size of your business, your company culture serves as the foundation for your organization and a guiding light for your workforce. It develops—intentionally or not—as your business grows and is often reflected in your organization's mission, goals, values, policies, and behaviors that influence your workforce. Even the absence of a formally recognized culture depicts a culture of sorts.
During challenging times, it's necessary to adjust your business' operations model, employee recruiting and retention efforts, and marketing strategies. The same holds true for your company culture. By nurturing a strong, positive culture—and course-correcting when necessary—you can better recognize the impact of transformational forces and drive out negative influences or patterns that occur over time.
"If you aren't checking your culture regularly to see what your workforce wants, the actions you take and decisions you make today may be antiquated tomorrow," says Michelle Thompson, G&A Partners' Manager of Strategic HR Advisory Services. "Checking in once or twice a year—or not at all—means you run the risk of falling far short of employees' expectations and losing your standing as a preferred place to work. And, once that genie is out of the bottle, it's hard to get it back in."
In this article, you will find information on the impact of regularly monitoring your company culture, along with signs it may be time for a company culture check.
Company Culture Checklist
At G&A, we recommend our clients conduct comprehensive culture checks at regular intervals. For businesses of any size, these check-ups help leaders keep a finger on the pulse of their workforce, identify what is and isn't working, and take targeted steps to address any concerns. Download this guide and follow our six-step process to check the health of your company culture.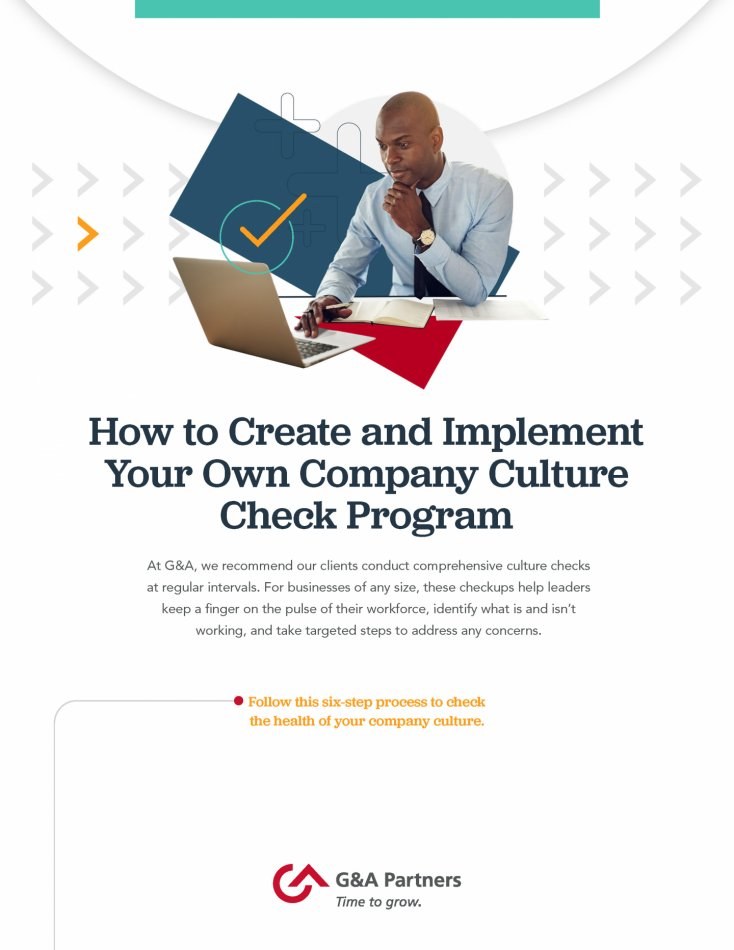 Global Factors Influencing Modern Workplace Culture
In a relatively short period of time, the global workplace has seen a whirlwind of change. Businesses have weathered a global pandemic, followed by the Great Resignation or Great Reshuffling (which saw workers reassessing their priorities and careers and, often, changing jobs), and economic factors, including a highly competitive labor market, supply chain issues, rising inflation, and a looming recession.
Your company culture is the organizational backbone that helps your business maintain course when times get tough, but it is not immune to pressure exerted by these external factors.

The Society for Human Resource Management (SHRM) surveyed approximately 9,500 global workers in 2022 to determine the effect of recent turmoil on workplace culture and found that organizations committed to nurturing strong company cultures have maintained positive work environments during these crises.
Key insights from the survey include:
72% rated their workplace culture as "good" or "very good."
90% of workers who rate their culture as "poor" have thought about quitting, compared with 72% of workers who rate their organizational culture as "average" and 32% who rate their culture as "good."
Six in 10 workers (60%) actively searching for a job say their organization's culture makes it challenging to balance their work and home commitments, compared with 35% of workers who are not looking for a new job.
Employees' expectations are changing and evolving. They are lobbying for better work-life balance, the flexibility to work where and when they want, and more support and empathy from their employer.
How Company Culture Impacts the Well-Being of Your Business
Company culture is like the proverbial iceberg. Your business's mission, vision, values, goals, organizational charts, policies, and processes are what employees—and the public to some extent—can see, but much more lies beneath the surface. "It's the shared assumptions, norms, and unwritten rules that truly cultivate culture," says Thompson.
Though most business owners rank company culture as a top priority, nurturing it can fall by the wayside if you are juggling multiple responsibilities and challenges. Neglecting your culture, however, can negatively affect employee engagement, innovation, productivity and your company's recruitment and retention efforts. This, in turn, impacts your company's health and well-being, and ultimately your bottom line.

Quantum Workplace's 2022 "Organizational Culture Research Report - Unpacking organizational culture in a new world of work," illustrates a link between culture and engagement. The report findings show "a strong culture drives employee engagement, whereas a weak culture can boost disengagement."
Additional report findings:
66% of employees say their culture positively impacts their work and behavior every day.
Employees who say their culture is positive are 3.8 times more likely to be engaged in their work.
When employees say their culture has improved over the past two years, they are more likely to be highly engaged (81%) than employees who say it has declined (28%).
Signs Your Company Needs a Culture Check
Your leadership and those responsible for human resources should remain alert for warning signs that your company culture is waning—or undergoing a change. This allows you to take proactive steps to conduct a culture check and tailor solutions to your employees' needs.
Clear indicators that your company needs a culture check:
Your employees show signs of stress and burnout.
Behavioral changes can be indicators that your employees may be experiencing high stress levels or burnout. Watch out for increased frustration and cynicism, and physical symptoms, such as frequent headaches and sore back and neck muscles.

Employees seem distracted or disengaged during meetings.
If you notice decreased participation levels in virtual or in-office meetings, it could indicate that your company culture is waning.

Signs of distraction include:

Turning off video during virtual meetings or frequently checking mobile devices during in-person meetings
Working on other assignments
Lack of participation in meeting discussions
Nodding off

Your company's teamwork spirit is flagging.
If you notice an uptick in employee conflicts and a decrease in collegial civility, your team's spirit is being tested. It could result from team members foregoing face-to-face contact for an extended period, personal issues, or both. Whatever the cause(s), it indicates that your culture needs a boost.

Office productivity is falling.
A marked or extended decline in employee productivity warns you that something is amiss in your company culture. Without proactive measures, people lose stamina when they frequently work long hours or the lines blur between work and home life.

Employee turnover increases.
A high employee turnover rate could be a sign that your business is experiencing a cultural problem and there are underlying problems you need to address.
Is it time to check the health of your company culture? To get started, download our
"Culture Checklist: How to Create and Implement a Company Culture Check Program."

How G&A Can Help
G&A Partners offers access to HR experts with years of experience helping businesses develop their employees, improve their workplace cultures, implement new HR processes and procedures, and more. Schedule a consultation with one of our trusted business advisors to learn more.