Benefits of Proactive versus Reactive Policies
How to Know If You Are Prepared for an Emergency
Is your business prepared for an emergency? Do you have a plan of action if your data is hacked? What if an employee suddenly becomes ill? In short: Is your company proactive or reactive?
Imagine yourself in the following scenarios. Are you prepared for these and other threats to your business operations?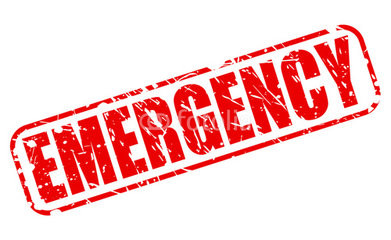 Emergency 1: Your offices are in the path of a massive hurricane. You've been ordered to evacuate. How will you keep your business running?
It's almost hurricane season - learn how G&A helped a client recover from Hurricane Harvey.

Emergency 2: A wildfire has cut off access to the office. Your customers, however, still need their services and/or products. How will you keep your clients happy through this crisis?
Emergency 3: A member of your executive team gets into a major car accident and is unable to work for months. She was in the middle of a major deal for your company. How will you continue moving forward while she recovers?
Emergency 4: Someone at your company opened a phishing email and now your data is vulnerable to hackers and ransomware. How will you keep your data safe?
Worried about the safety of your data? Protect your business from cyberattacks: start with our free cybersecurity toolkit.
How a Reactive Company Responds to Disruptions
A reactive company is one that is caught unawares in the event of a disruption to its business operations–anything from a natural disaster to a pipe bursting in the office. These companies have to make all their decisions as a reaction to the disruption, increasing the likelihood that policies may be inconsistently applied and leaving employers more open to legal action. As a result, reactive companies typically have a hard time bouncing back from disruptions of any scale.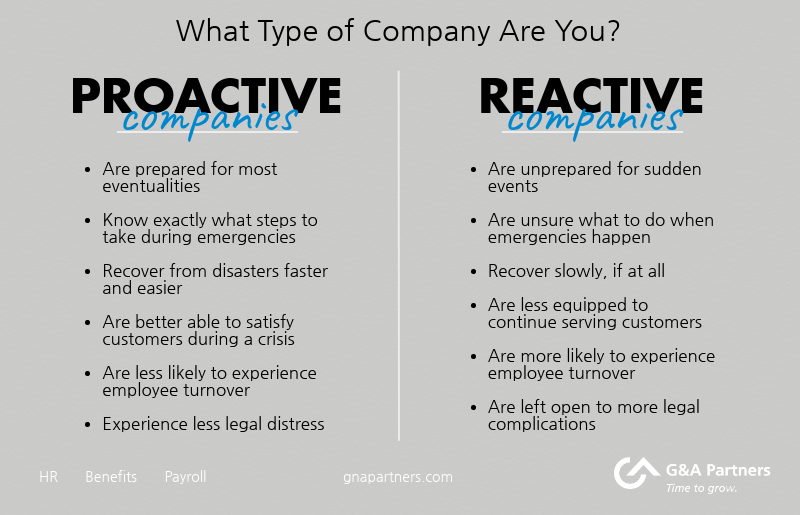 How a Proactive Company Responds to Disruptions
A company that prepares for the worst even while times are good is likely to fare the best should an emergency occur. By researching and creating a plan, these companies have explored all the possible hurdles and headaches that might occur and have planned out action items for how to handle those issues. That's why proactive companies are more likely to recover faster and better than those without a plan in place.
Types of Preparedness Plans Proactive Companies Create
There are several types of preparedness plans to create and put into action. Those include:
Emergency Response Plan: Outlines immediate actions that should take place in the event of a natural disaster or other emergencies.
Crisis Communications Plan: Outlines who you need to contact after a data breach, natural disaster, and other business interruptions.
Business Continuity Plan: Outlines how your company will recover and stay operational during a business disruption.
IT Disaster Recovery Plan: Outlines the next steps after you've been hacked, the sprinklers went off and soaked all your computers or other tech emergencies.
G&A Partners helps our clients prepare for all kinds of potential risk and safety concerns by developing sound HR policies and procedures. Don't leave your business unprotected – contact G&A Partners today to learn how we can help you minimize cost, increase productivity, and reduce risk.