Return to Work: Protecting Your Business, Employees, and Customers
A strong culture can help any company weather a crisis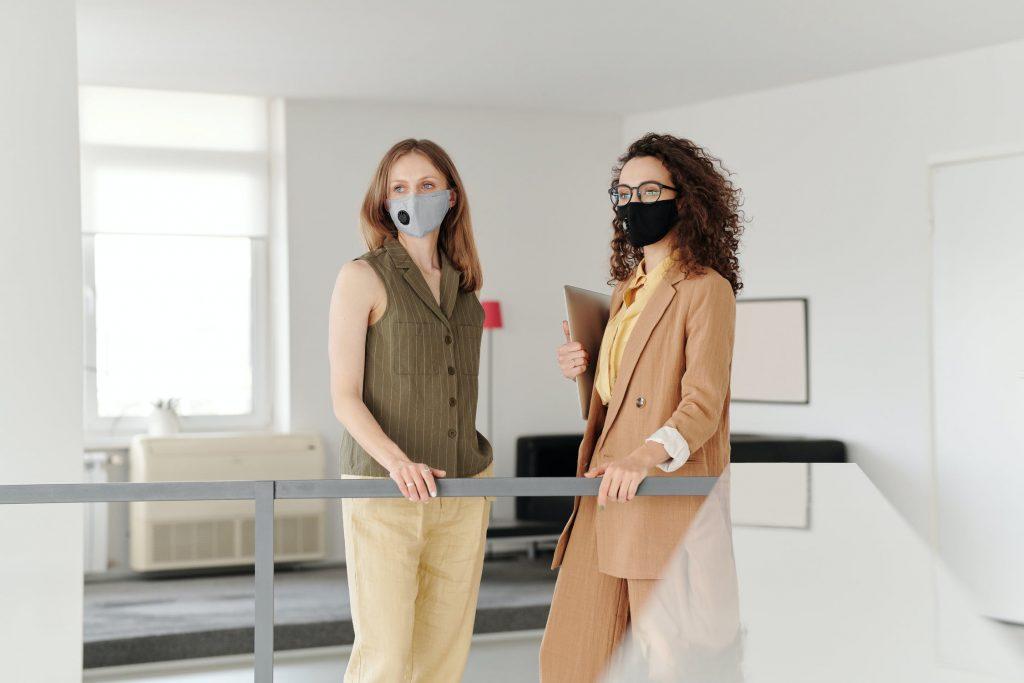 On Wednesday, June 10, G&A Partners' Michelle Mikesell, Vice President of Corporate HR, and Kim Traylor, Vice President of Client Services, shared the strategy G&A has used to create and maintain a cohesive, successful culture that has withstood the test of the COVID-19 pandemic.
Mikesell and Traylor were invited by host Small Business University Online, and facilitator Vanessa Wilson, Director of Partner Enablement for PrismHR, to discuss how G&A has managed business risk and profitability while also keeping its employees safe and its customers happy in the webinar titled "Return to Work: Protecting Your Business, Employees and Customers."
Mikesell said the secret to G&A's success started with aligning its employees around a set of living, breathing values (LBVs) that everyone in the company uses to guide them through every decision. G&A's five LBVs are:
Put people first
Love what you do
Create phenomenal experiences
Lead by example
Communicate consistently and openly
Put people first
G&A's first LBV, to put people first, is at the very heart of its cultural foundation. This value requires employees to "care for our employees and clients as if they were family and extend this empathy to the communities we serve."
As soon as the news hit about the pandemic and governments began shuttering their cities, G&A asked all employees to take their laptops and whatever office tools they needed home with them so they could begin social distancing. Constant communication and the use of multiple online social tools such as Zoom for meetings and Microsoft Teams for chatting have enabled G&A's employees to seamlessly continue their important work for their clients.
"One of our clients is in healthcare and is on the frontlines," Traylor said. "We were trying to think of a way that we could help them [and decided to purchase] lunch for those workers one day. We engaged one of our other clients, which happens to be in the food and beverage industry, to put those boxed lunches together and deliver lunch to those folks. I was really touched because my team suggested that we write personal notes to them, letting them know how much we appreciated their efforts during this time.
"It meant so very much to the clients. They are still talking about [our gesture] months later."
Love what you do
When you "have passion for your work and the impact you're making every day," Mikesell says you are bound to see your business thrive. G&A has watched its Employee Net Promoter Scores (eNPS) and client Net Promoter Scores (NPS) achieve record heights during these work-from-home months.
Mikesell and Traylor believe it's because G&A has entrusted its people to do their work remotely. It's that trust, flexibility, empowerment, and genuine care and concern that has driven G&A employees to go above and beyond for their clients throughout the crisis, Mikesell said.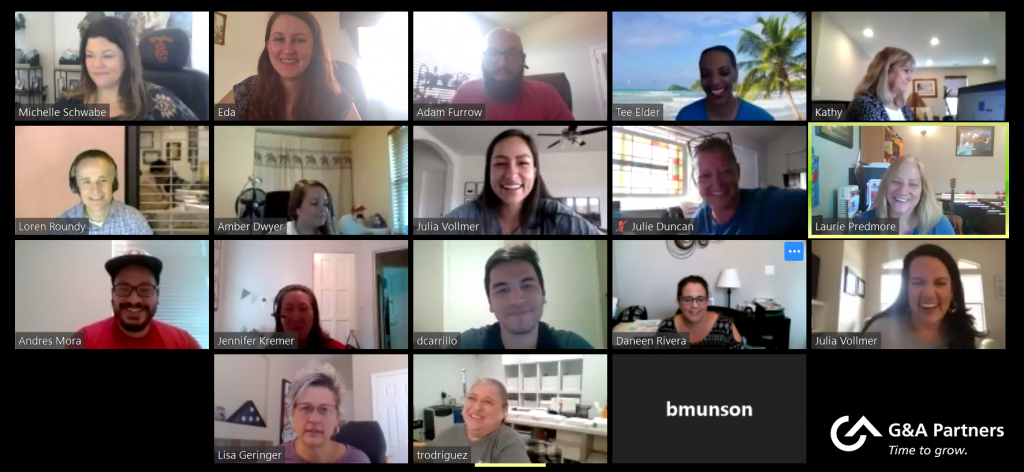 G&A Partners didn't let working from home stop them from enjoying their "lunch lotteries," where they get to hang out with colleagues and learn new things about each other. They just moved the experience to Zoom, which allowed them to meet with colleagues from other cities and states, too.
Create phenomenal experiences
Happy, engaged employees are able to keep clients happy in return. Mikesell said she and her team called to check on each of the company's 400 employees to make sure they had what they needed and to see how they were doing. Virtual coffee or tea chats, lunches, yoga sessions and more have kept the team connected during this period they've been apart.
Client advocates have been able to see more clients per day since all meetings have been virtual and commute time is no longer an obstacle, Traylor said. She and Mikesell believe all of these factors have played a part in the improved NPS scores, which confirm for G&A that they are, in fact, creating phenomenal experiences.
Lead by example
The pandemic hit the U.S. economy hard and small and mid-sized businesses seemed hit hardest of all. When so many of these businesses were forced to terminate or furlough their employees, it affected G&A's bottom line significantly. But throughout the pandemic, Traylor said G&A's owners, Tony Grijalva and John Allen, have epitomized the "lead by example" LBV, which states that "it all starts with you. Take ownership. Respond quickly. See tasks through to the end and help others do the same."
Grijalva and Allen sacrificed their pay and G&A executive leadership gave up 25% of their pay in order to keep all employees on the payroll, she said. Thoughtful, cost-cutting measures were taken and announced at virtual town hall meetings led by Grijalva and Allen. These biweekly all-hands virtual meetings are "one of the most powerful things we've done," according to Mikesell. G&A's owners also announced a three-phased approach to returning to the office.
Phase 1, which started on June 1, was completely voluntary. The offices were professionally cleaned and a welcome station for temperature checks are in place. The essential staff and now the additional volunteer office staff receive free daily lunches as well. Phase 2 will begin in July and Phase 3, when all employees will be asked to return, is scheduled to take place in early September barring another wave of orders from state governments to stay home.
Communicate consistently and openly
Mikesell said that to her, the overarching reason for G&A's success throughout the pandemic has been its ability to communicate consistently and transparently with its employees and its customers. This LBV calls for people to "build trust by listening with the intent to understand and responding quickly and thoughtfully."
Mikesell sends daily emails to all employees letting them know what's going on behind the scenes at G&A or offering inspirational stories, advice, quotes, and even songs to help ease anxiety and encourage more Zen in their day. Grijalva and Allen produce the biweekly town halls for further transparency, answering all questions at the end of each event as completely and honestly as they are able. And G&A provides clients with weekly newsletters and regular email communications letting them know of important legislation, resources, and events that can help them navigate through these unprecedented times.
In fact, G&A has produced a COVID-19 Toolkit that it maintains and updates regularly with all of the resources small and medium-sized businesses need, organized into representative categories. Client-only, password-protected COVID-19 resources may also be accessed from this toolkit, but for the most part, the data is accessible and available to the public.
Treat employees and customers like family
Mikesell said the G&A LBVs were built around the employee experience and have been highly effective in helping the company maintain its family-like culture.
"We started by aligning our people and asking essential questions, 'Why is G&A here? What is it that we do? Who do we serve?'" she said. "These principles are universal whether you've got 40 employees, four employees, or 400 employees. For us, as a company, it's paid huge dividends—not just financially, but with our people, with our commitment, and with their commitment to the workforce."
Traylor said following the LBVs and incorporating them into the company's DNA has helped G&A serve its employees and clients well during the COVID-19 pandemic. Watch the webinar to learn more.