G&A Partners earns platinum UWWC Healthy Worksite Wellness Award amidst pandemic
UTAH – March 4, 2021 – The Utah Worksite Wellness Council (UWWC) recognized G&A Partners today as one of Utah's healthiest employers by presenting the professional employer organizations (PEO) with a platinum award for its efforts.
The UWWC's Healthy Worksite Wellness Awards Program recognizes Utah employers for their exemplary work in worksite wellness and their commitment to improving their employees' health and well-being.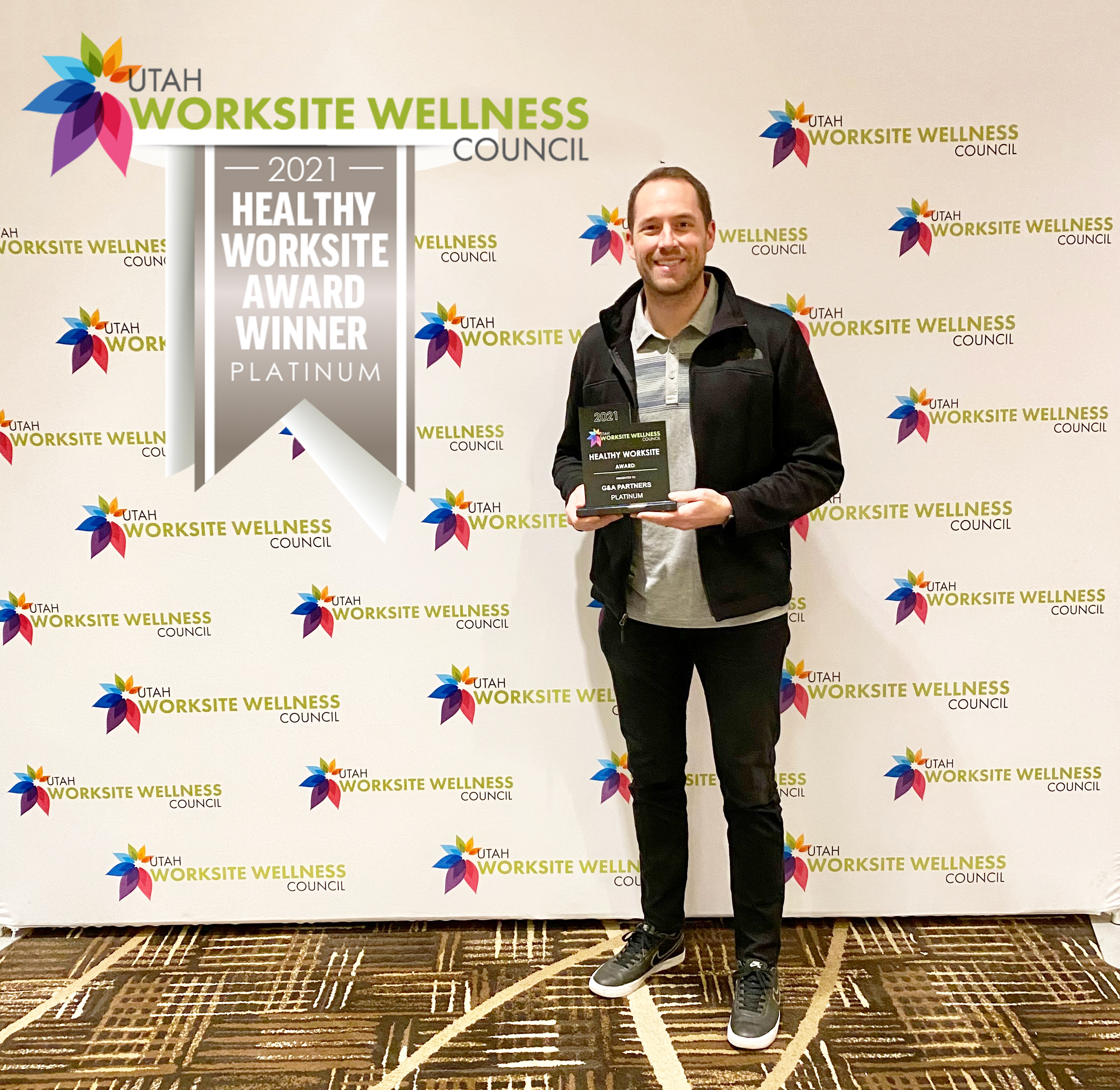 The Platinum Award presented to G&A represents the pinnacle of results-oriented worksite wellness programming and is granted to organizations that have forged new ground by linking health-promotion objectives to business outcomes. G&A's Evolve™ wellness program encourages healthy lifestyle practices through employee competitions, initiatives, and educational tools for G&A employees and its more than 55,000 client worksite employees.
"We have had to get creative this year when it comes to maintaining our healthy culture while most of our employees work remotely," said Michelle Mikesell, vice president of Corporate Human Resources for G&A Partners. "Our Employee Experience Council hosts weekly yoga, High-intensity interval training (HIIT), and Zumba sessions via Zoom to ensure our employees take some time to get moving and engage with their colleagues."
Mikesell said G&A has also presented its employees with an extra eight hours in paid time off to take as a "wellness day" this spring as a thank you and acknowledgment that despite the global COVID-19 pandemic and various natural disasters they've had to overcome in recent years, they never missed a single payroll.
About the UWWC
The Utah Worksite Wellness Council (UWWC) is a nonprofit partnership of organizations that began in 2008 with the singular purpose of learning how to build effective worksite wellness programs and methods that lead to sustainable lifestyle change for employees. It comprises members from various disciplines in health and wellness throughout Utah. Learn more about the council at https://www.utahworksitewellness.org
G&A Partners, one of the nation's leading professional employer organizations (PEO), has been helping entrepreneurs grow their businesses for more than 25 years. By delivering world-class services with trusted experts in HR administration, payroll, and benefits, clients now have the time and freedom they need to focus on what matters most—their employees, products and services, and their customers.
Headquartered in Houston, G&A Partners has offices throughout Texas, as well as in Arizona, California, Colorado, Illinois, Minnesota, Nevada, Tennessee, Utah, Wisconsin, and Latin America.