When Disaster Strikes: HR Lessons From Hurricane Harvey
How outsourcing HR can help companies better weather disasters
5 HR lessons a Houston-area business owner used to keep his company moving before, during and after Hurricane Harvey.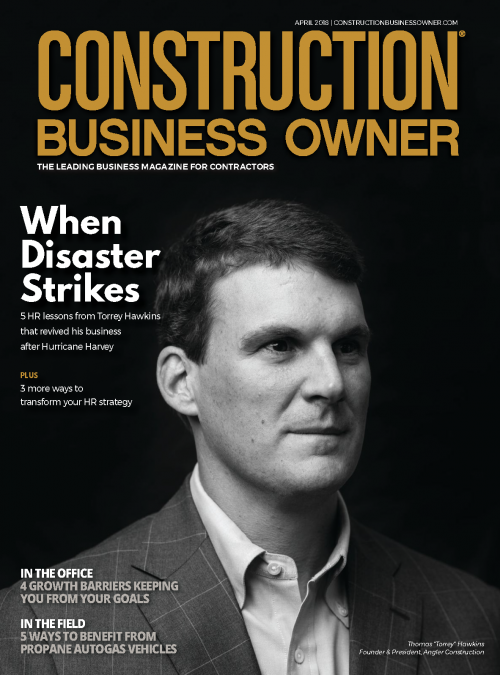 The founder and president of Houston-based commercial construction company Angler Construction talks about how outsourcing HR with G&A Partners helped his business stay operational during Hurricane Harvey.
This article was written by Kim Traylor, vice president of client services for G&A Partners, and originally appeared as the cover story of the April 2018 issue of Construction Business Owner. To read the full story on the Construction Business Owner website, click here.

Thomas "Torrey" Hawkins, founder and president of Angler Construction, is no stranger to the severe weather that accompanies life in the Gulf Coast region.
A 15-year veteran of the commercial construction industry and longtime Houston-area business owner, Hawkins has weathered a number of storms and flooding, including the devastating Hurricane Ike (2008) and the more recent Memorial Day (2015) and Tax Day (2016) floods, each of which brought more than 10 inches of rain over a period of hours to parts of the city, but last year's Hurricane Harvey brought a new kind of challenge for Hawkins and his 30-employee construction company.
While Hurricane Harvey represents an extreme when it comes to the disasters an employer might face, the way Angler Construction prepared for and responded to this storm, assisted by its HR outsourcing provider G&A Partners, provides a number of lessons in how an employer should react when disaster strikes.
Torrey's tips for steering your company through a disaster:
Put together a business continuity plan before disaster strikes.
Stay in touch with employees during and after the disaster.
Make sure payroll will continue to be processed.
Minimize operational downtime by finding ways to continue working during and after the storm – even if they can't get to the office.
Find ways to support your employees (and community) however you can.
[Check out the full article on the Construction Business Owner website to learn how Angler Construction implemented strategies to accomplish all of these key initiatives.]
G&A Partners' role in providing payroll continuity
Perhaps the most pressing HR concern for employers once they get past the immediate danger of a disaster is how they are going to pay employees, especially if they are unable to get to the office to process payroll. Also high on most employees' lists of concerns after a disaster is when they are going to receive their next paycheck, particularly those who were displaced or experienced damage to their homes.
While payroll was certainly also a top priority for Angler Construction, the fact that the company had outsourced its HR functions to G&A Partners provided Hawkins and his team with peace of mind, knowing that payroll would continue to be processed without interruption.
"We were able to communicate with [our team at G&A Partners], and our bookkeeper was able to log on to the online systems and get payroll processed very easily from her house when she couldn't get to the office. We were able to operate and send people their paychecks, so they could focus on what they needed to focus on, whether that was helping themselves or helping other people."
For more information on preparing for your business's worst case scenario, contact G&A Partners, a leader among HR consultant firms and PEOs in Texas and across the nation. Get started with G&A Partners today!