ASO vs. PEO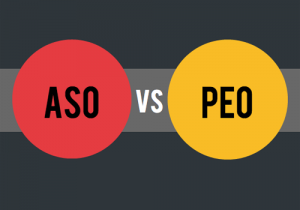 For many companies, outsourcing various administrative and human resources tasks may be more efficient than handling them in-house, or may even be necessary due to a lack of time, resources or expertise. But deciding to outsource some or all of your company's HR and/or administrative functions is just the beginning of the outsourcing process. Before an employer can proceed to shopping for an outsourcing provider, they need to carefully review their needs, expectations and budget to decide what kind of outsourcing provider their company needs.
When it comes to outsourced HR, there are two main types of providers: administrative services organizations (ASO) and professional employer organizations (PEO). While both ASOs and PEOs provide outsourced employment-related tasks like payroll, employee benefits and HR consulting, the way each type of organization delivers these services is what sets them apart.
Administrative Services Organizations (ASO)
Simply speaking, an administrative services organization is a company that contracts with employers to provide administrative and human resources services. An ASO partnership allows employers to pick and choose from a number of services (recruitment, benefits administration, payroll, etc.), essentially building their own service offering from an a la carte menu of available services. This service model is similar to many other business process outsourcing and vendor/client relationships, and typically works well for large and established companies who already have an existing HR structure in place.
Professional Employer Organizations (PEO)
A professional employer organization arrangement is slightly more involved than an ASO arrangement. When a company decides to partner with a PEO, they enter into a co-employment relationship with their provider. This relationship allows the PEO to act as the "employer of record" for its clients' employees, giving the PEO full authority to perform many of tedious administrative tasks associated with being an employer on the company's behalf. The co-employment relationship also facilitates shared liability between the PEO and its clients, which allows the PEO to assume some of the risk of carrying employees. And because PEOs become the employer of record for all of their clients' employees, they are able to negotiate significantly lower rates and premiums on insurance plans and technology platforms than a single small employer could ever find on their own. Compared to an ASO arrangement, the PEO service model offers employers a more comprehensive approach to outsourced HR, and typically works best for small and midsize companies, rapidly growing companies, and companies that are just starting out.
Which is right for your company?
When deciding between an ASO or a PEO, employers should make sure they know exactly what they're looking for from their provider. Ask yourself these questions:
How much help do you need?
Does your company just need help with one or two key functions, or do you need lots of help with every aspect of your company's HR? Are you simply looking for a service provider, or do you want to have access to HR and subject-matter experts who can help you design and implement policies?
What's your budget?
While both ASOs and PEOs offer employers a much more cost-effective alternative to handling HR in-house, you should have a general idea of what you're willing to pay before you begin your search. Generally speaking, PEOs charge for their services either as a percentage of total payroll (usually between 3-8 percent), or as a flat, per-employee-per-year fee. ASOs also typically charge on a flat, per-employee basis, depending on the services purchased.
Why are you choosing to outsource your HR?
This is perhaps the most important question employers should ask themselves prior to choosing the type of HR provider they should find. If you're looking for a provider to augment your existing staff, or are you looking for someone to completely take over your company's HR responsibilities?
Conclusion
Both the ASO and PEO service models help employers lighten the burden of HR and administrative tasks they face, as well as provide them with badly needed tools and expertise. The key differentiating factor between these two models is the way the services are delivered, either via a more traditional vendor/client relationship (ASO) or via a co-employment relationship (PEO). Depending on what your company is looking for, one model may make more sense than another. Either way, however, by outsourcing HR and administrative tasks your company is sure to enjoy a more efficient and cost-effective solution to HR.
If you're looking for a trusted HR partner that offers outstanding service, top-tier employee benefits plans and more than 20 years of HR experience, look no further. As a leader in the HR outsourcing industry capable of providing both ASO and PEO services, G&A Partners specializes in partnering with business owners like you who are in need of additional back-office support to design solutions that put time back in your hands – time to grow your business, time to develop new products, and time to spend with family and friends. Learn how G&A Partners can help you achieve your business goals by calling 1-866-634-6713 or schedule a free business consultation.