Choosing the Right Nonprofit Partner for Your Business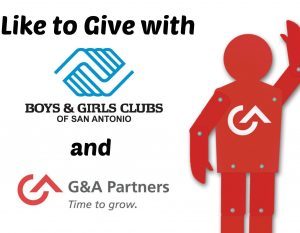 As G&A launches its "Like to Give" campaign benefiting the Girls & Boys Clubs of San Antonio, we'd like to take a minute to think about how and why businesses choose to partner with certain nonprofits. Much has been said about the business benefits of encouraging volunteerism and giving back to the community. Not only does your business receive some great (and often free) good press, but creating a corporate culture that promotes community involvement has been proven to increase employee engagement, bolster recruitment and retention efforts, and even improve your business' reputations.
But deciding to make a positive impact in your community is just the beginning. If you're serious about making community involvement part of your company's culture, you should take the time to carefully choose the right nonprofit(s) to donate to, especially if you'd like to create a lasting or ongoing partnership.
Here are 3 tips for choosing the right nonprofit(s) for your business to partner with from Forbes.com:
Use a charity-rating tool to evaluate the organization.
Before you start donating your company's hard-earned money to any charity, do a little research. Sites like CharityNavigator.org and Guidestar.org evaluate and rate nonprofits based on their transparency and financial reports.
Ask for input from your employees.
Asking for input from employees about the type of organizations the business supports can be important, especially if the employees may also be asked to donate or volunteer. Getting buy-in before choosing a nonprofit to partner with may also increase participation amongst employees.
Keep your company's mission and values in mind.
The ideal nonprofit partner will not only be something you are passionate about, but also something that complements your business' mission or values. For instance, if your business is in the food and beverage industry, supporting an organization that fights hunger may be right up your alley.
One of G&A's core values is to promote passionate community involvement. As a business with multiple regional offices, G&A strives to make a lasting positive impact in the communities they do business in. In this "Like To Give" campaign, benefiting the Girls & Boys Clubs of San Antonio, G&A Partners will donate $1 for each new like the G&A Partners and Boys & Girls Clubs of San Antonio Facebook pages receive, up to $1,000. The donations made from each new "like" will go a long way towards enhancing the educational, social and moral development of San Antonio's youth.
Facebook Pages:
G&A Partners: www.facebook.com/gnapartners
Boys & Girls Clubs of San Antonio: www.facebook.com/bgcsanantonio