Diversity, Equity, and Inclusion: Your Program Needs all Three to Thrive
Developing a successful DEI program starts with defining and understanding each component:
Diversity is defined by Webster's Dictionary as "the condition of being defined or composed of various elements." Applied to DEI: Employees individually are unique with a mixture qualities and abilities.
Equity is defined as "free from bias or favoritism." Applied to DEI: Applicants and employees with unique qualities and abilities should be treated fairly and have access to the same opportunities.
Inclusion is "the act of including, the state of being included." Applied to DEI: This means fostering a culture of belonging.
Kristi Arcurie, G&A Partners client advocate, said a company can be diverse and not treat people fairly. A company can be diverse and not have a culture of belonging. "Ultimately we want to create a work environment for our employees where they are all treated fairly and respectfully and have access to opportunities and resources so they can contribute to the organization's success."
Some companies unintentionally place more emphasis on achieving diversity goals than creating an equitable and inclusive culture that allows diversity to take root and thrive.
DEI programs, by their very nature, should not be exclusive and should support the full spectrum of skills and qualities that employees bring to the workplace—including different cultures, races, backgrounds, abilities, genders, generations, and cognitive and educational levels.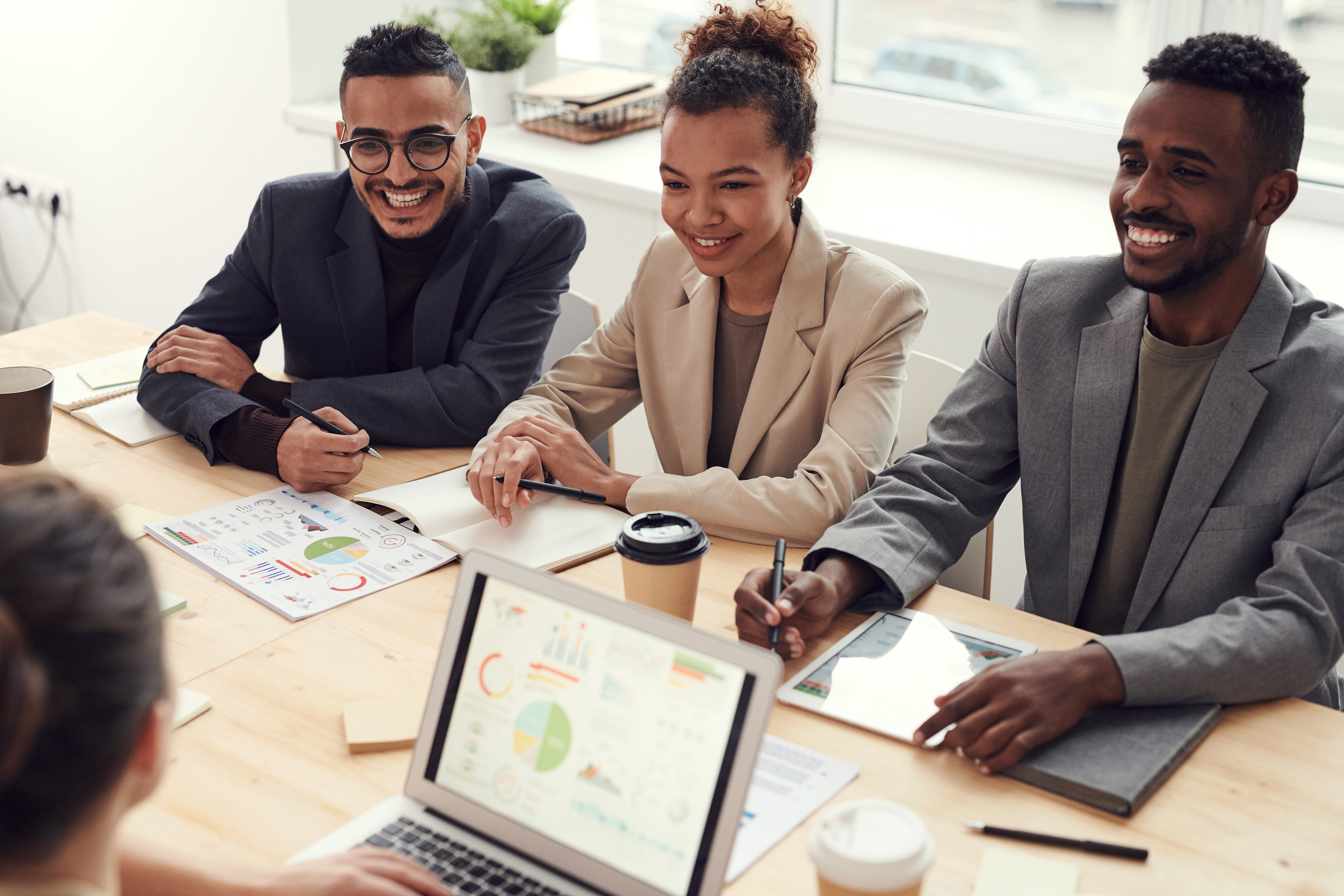 The Benefits of Implementing a DEI Program
For small to mid-sized companies, especially, the real or perceived magnitude of change required to implement a successful DEI program can feel overwhelming. But with guidance, such a program can have an enormous and positive impact across all facets of your business. And in our increasingly competitive and fast-moving globalized economy, companies that fully embrace DEI initiatives will come to realize the tremendous benefits that a diverse, equitable, and inclusive workforce brings to the table.
DEI Drives Innovation

Take two different groups of employees. Group A's members have similar backgrounds, are of the same generation, and have roughly the same education level and work experience. Group B is the opposite of Group A. Not one person shares more than one characteristic with their other group members. If you assign both groups a brainstorming exercise, which do you think will generate more imaginative and inventive ideas?
Research indicates that cognitively and demographically diverse teams that operate in an inclusive environment are more creative and innovative, and also more likely to identify and address risks. Lucy Garcia, a client advocate and diversity and inclusion expert for G&A Partners said working with a variety of people sharpens the brain and challenges conventional patterns of thinking. Diverse teams are more objective and fact-orientated, leading to better overall decision-making.
DEI Stimulates Performance
Research shows that if you assemble a group of employees comprised of different races, genders, educational levels, cultures, generations and backgrounds—those differences spur ideas, debate, and creativity as well as energy, excitement, and a sense of friendly competition that can advance productivity and performance. It's human nature.
McKinsey & Company's Diversity Wins: How Inclusion Matters report studied the effects of gender and ethnic diversity on a company's financial performance. Companies in the top quarter in terms of their DEI efforts were 12% more likely to outperform all other companies that participated in the analysis, while those that ranked near the bottom underperformed by 27%. The COVID-19 pandemic is exacerbating these trends.
"Companies that already see [diversity and inclusion] as a strength are likely to leverage it to bounce back quicker—and they will use this time to seek new opportunities to boost representation and inclusion to strengthen performance and organizational health," the report states. "On the other hand, some of the companies we have spoken to are viewing [diversity and inclusion] as a 'luxury we cannot afford' during the crisis. We believe that these companies risk tarnishing their license to operate in the long term and could lose out on very real opportunities to innovate their business model and strengthen their business recovery."
On the surface, DEI programs might seem like a fit for corporations with big budgets and large workforces. In reality, small to mid-sized companies can scale their DEI efforts based on staff size and budget requirements to achieve similar results, and the investment will more than pay off in the long run.
DEI Encourages Compliance
Social justice movements and widespread demand for equality in all aspects of society have naturally filtered to the workplace, which puts your company's DEI efforts in the spotlight. In Compliance Week's second annual "Inside the Mind of the CCO" survey," 62% of respondents reported that their company's DEI efforts moved to the forefront in 2020.
Compliance with federal, state and local laws that mandate equal opportunity practices in all phases of the employment process and throughout the workplace should already be a standard practice in the workplace and can also add regulatory structure to DEI efforts.
If your company has 15 or more employees you are required to comply with various laws under the Equal Employment Opportunity Commission (EEOC), which prohibit discrimination against a job applicant or an employee based on race, color, religion, sex (including pregnancy, gender identity, and sexual orientation), national origin, age (40 years or older), disability, or genetic information. The laws also make it illegal to retaliate against a person because the person complained about discrimination, filed a charge of discrimination, or participated in an employment discrimination investigation or lawsuit.
DEI Fortifies Reputation Management
Creating a culture that celebrates diversity, equity, and inclusion is a key differentiator in how companies remain successful, strengthen their reputation and brand, and reduce the risk of discriminatory claims.
G&A Partners' Lucy Garcia said organizations should be careful not to make inaccurate claims of being diverse, if in truth, they are not. Take a critical look at your business and look for areas that are—or could be perceived as—discriminatory, even if unintentional. A strong DEI program provides the roadmap, course and tools to steer your company in the right direction—away from practices that have been hardwired into company culture because of long-standing cultural and societal factors.
McKinsey & Co.'s report stated that times of crisis—such as what happened in 2020—drive people to take a hard look at the companies they do business with to see what lies beneath. Businesses that are putting time and effort into DEI efforts and making true progress are more likely to withstand public scrutiny than those that are not.

"…Customers are becoming, and starting to lean into, a sense of empowerment; they communicate what they stand for with their wallets and social media shares, and messages of equality have a pervasive appeal. Deloitte's 2017 research found that up to one-half of customers had been influenced to make a purchasing decision in the past 12 months because of an organization's support for equality—whether around issues of marriage equality, gender, disability, age, or culture."
—— Excerpt from Deloitte Review, Issue 22; The diversity and inclusion revolution: Eight powerful truths By Juliet Bourke; January 22, 2018.

While the number of companies that have implemented DEI programs has grown significantly in recent years, there remains much work to do.
If you need help creating, revising, or implementing your company's diversity, equity, and inclusion plan, G&A can help. We offer small to mid-sized businesses world-class HR services and a team of experts who can help you navigate sensitive employment issues. To learn more, schedule a consultation with one of our knowledgeable business advisors.
WEBINAR
Playing Off Strengths: How to Engage a Diverse Workforce Through Inclusivity
In your current recruiting practices, are you considering candidates with different backgrounds and abilities? Assessing the relevant experience and skills of job applicants is always important, but building a program, and an organization, that values and champions diversity can benefit your team and your organization in countless ways.
G&A Partners' webinar, "Playing Off Strengths: How to Engage a Diverse Workforce Through Inclusivity," defines a successful Diversity, Equity, and Inclusion (DEI) program and why it matters to your organization, outline how to provide inclusive accommodations, and ultimately provide helpful information on how to cultivate an accepting and engaged team of diverse individuals.