Recruitment and Retention in a Pandemic — the Rules have Changed
Webinar Recap
If your company is experiencing higher turnover than usual or struggling to find and hire the right candidates for job openings, you are not alone. These, and other employer recruiting and retention challenges, are directly attributed to pressure the COVID-19 pandemic is placing on the U.S. job market in 2021. "So much has happened and changed in the job market and economy since the pandemic started last March," said Eleesha Martin, Manager, Recruitment Process Outsourcing (RPO) Services for G&A Partners, during our latest webinar, Recruitment and Retention in a Pandemic—The Rules have Changed. "There's a war for talent going on, but no vaccine to combat it."
With approximately 1.4 million more unfilled jobs than the number of unemployed, according to The U.S. Bureau of Labor Statistics (BLS), it is an employee's job market. Employers report an ongoing struggle to fill open positions with job seekers demanding higher pay and expanded benefits. And, unfortunately, "ghosting" is at an all-time high in the hiring process, with many candidates failing to show up for interviews or even to their first day of work.
Martin said experts predict that a "Great Resignation" and a "Turnover Tsunami" could occur when the pandemic is under control. Both involve waves of employees resigning or leaving their current jobs for new ones due to pandemic-related factors. Many employers are unaware of these evolving trends and could be caught off guard if it happens in their workplace. "I encourage you to be proactive and start planning now," Martin said. "The cost of replacing an individual employee can range from one-half to two times the employee's annual salary."
Martin made several recommendations about proactively strengthening your company's recruiting and retention efforts during the pandemic. In this webinar, you can:
Uncover reasons why candidates are "ghosting" your company and how you can reverse that trend.
Learn more about the "Great Resignation" and "Turnover Tsunami" and how they could impact your company.
Discover the "Top 10" reasons why your company might be experiencing higher turnover than usual.
Understand how hybrid and remote work has permanently changed employees' expectations and the risks you take if you aren't flexible.
Find ways to entice employees back to the office after working remotely for more than a year.
Acquire dynamic compensation and benefits strategies that can help you retain current employees and attract new employees.
Martin said employees want to feel that their work is appreciated and that their employer is concerned about their physical, mental, and financial wellbeing. If they don't, there is a good chance they may look for another job. With that said, employers can take positive steps to recruit and retain top talent – even during challenging times.
You can access the full webinar recording above and download the slides. It has been pre-certified by the Human Resources Certification Institute (HRCI) and The Society for Human Resource Management (SHRM) for one hour of HR general recertification credit. Also, check out G&A's Stand out in a crowded employee job market by offering creative compensation and benefits packages article for additional tips on the role employee benefits play in helping your company recruit and retain top talent.
If you have additional questions after viewing the presentation or need help tackling your HR needs, let's talk soon. For other resources, go to G&A Partner's website and submit questions to info@gnapartners.com.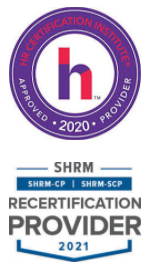 HR Certification Institute's® (HRCI.org) official seal confirms that G&A Partners meets the criteria for pre-approved recertification credit(s) for any of HRCI's eight credentials, including SPHR® and PHR®. For more information about certification or recertification, please visit hrci.org.

G&A Partners is recognized by SHRM to offer Professional Development Credits (PDCs) for the SHRM-CP® or SHRM-SCP®. For more information about certification or recertification, please visit shrmcertification.org.
The use of this logo is not an endorsement by the HR Certification Institute of the quality of the program. It means that this program has met the HR Certification Institute's criteria to be pre-approved for recertification credit.
About Us
G&A Partners is a leading professional employer organization that offers world-class HR services and a team of experts who can help you navigate employment issues and initiatives such as diversity, equity, and inclusion. Please schedule a consultation with one of our knowledgeable business advisors to learn more.