Based on insights gathered through the years by G&A Partners' team of HR experts, following are five areas we recommend businesses focus on to sustain an inspiring and supportive company culture:

1. Emphasize Strong Employee-Manager Relationships
A good employee-manager relationship heavily influences employee engagement, and the most effective managers are equal parts leader, coach, mentor, and advocate. If relationships between your managers and employees could use improvement, consider adopting a situational leadership management style. This customizable approach focuses on leading with empathy, encourages managers to assess each employee's skill level and unique needs continually, and fluctuates as employees learn and grow or their needs change.
2. Focus on Employee Development
Effective employee training programs have been linked to improved retention and engagement rates. Show your employees that you value them—and their career pathways—by helping them develop and advance their job skills. Also consider creating mentorship programs that encourage management, peer, and intergenerational skill-sharing and collaboration networks. If you don't have the budget for an in-house professional development program, consider comprehensive online learning management systems that can be scaled and adapted to your company's needs.

Company Culture Checklist
At G&A, we recommend our clients conduct comprehensive culture checks at regular intervals. For businesses of any size, these check-ups help leaders keep a finger on the pulse of their workforce, identify what is and isn't working, and take targeted steps to address any concerns. Download this guide and follow our six-step process to check the health of your company culture.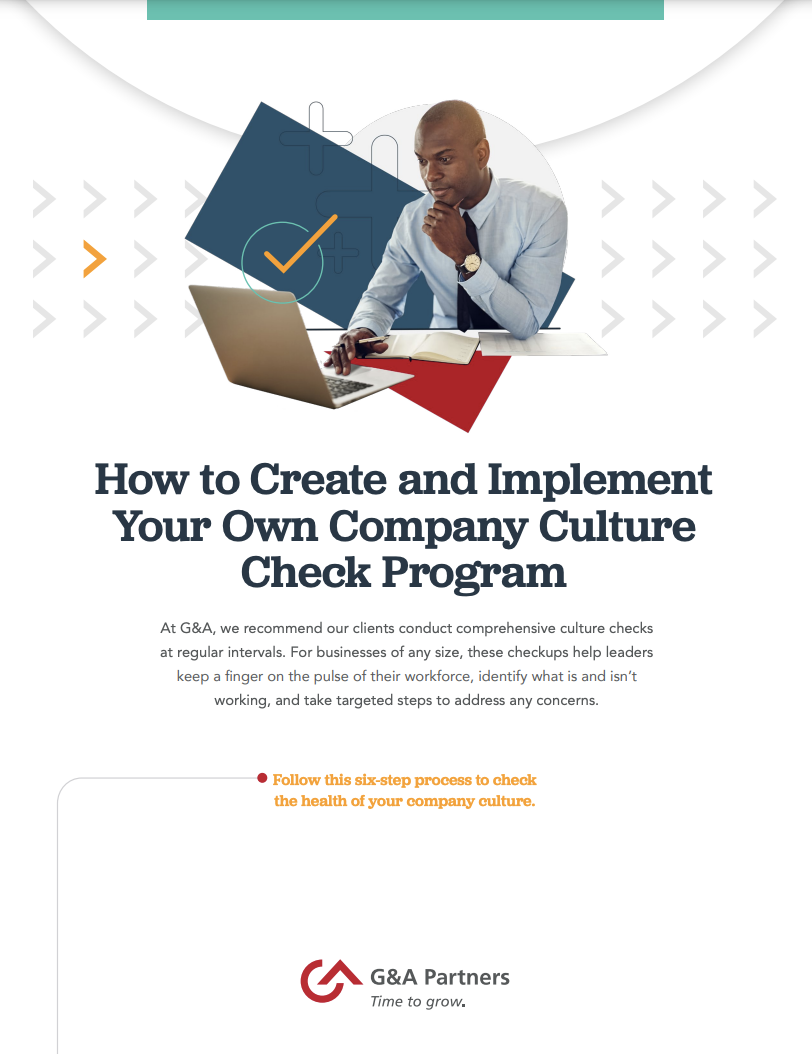 3. Demonstrate a Commitment to Employee Work-Life Balance and Well-Being
According to LinkedIn's "The Reinvention of Company Culture: Why It Should Be Your Top Priority This Year" by Mark Lobosco, a good work-life balance is the highest priority for job hunters, outweighing even excellent compensation and benefits. "They're demanding more work-life balance, the freedom to work where and when they want, and the support and empathy of their employer—and they're ready to walk away from jobs that don't meet their needs," states the article.
If your company's business model allows it, implement a flexible scheduling or hybrid workplace strategy that is all-inclusive and incorporates guidelines and procedures for employees working at the workplace and in remote locations. You can also demonstrate your commitment to the mental health and well-being of your employees through an employee assistance program that provides confidential access to outside counselors, resources, and referrals.

4. Prioritize Transparency and Open Communication
Create a work environment where your employees feel comfortable talking openly and honestly with you and your leadership team. Communicate often and in various ways with employees and encourage them to ask questions and share feedback. Also, use employee surveys to gather feedback and measure employee engagement in your workplace. This HR tool helps you gauge employees' interests, motivation, and happiness, and you can use the feedback to create a blueprint for improving employee retention.

5. Implement an Employee Rewards and Recognition Program
Employees want to feel valued by their employers. Compensation packages are essential and contribute to employee satisfaction, but rewards and recognition—special perks such as gift cards and additional PTO—can also significantly impact engagement. Employees who feel their managers and senior leadership teams recognize their contributions are likely to be more engaged and innovative and will continue working hard and putting in the extra effort.
How G&A Can Help
G&A Partners offers access to HR experts with years of experience helping businesses develop their employees, improve their workplace cultures, implement new HR processes and procedures, and more. Schedule a consultation with one of our trusted business advisors to learn more.