Skimping on HR Now can Cost More Later
With recent and continued instability in oil prices, numerous businesses are feeling the all-too-familiar pinch of a tough economic situation. To compensate for current and expected losses many business owners are turning their focus inward to identify what costs they can cut to help their businesses and employees come out of this economic crunch relatively unscathed.
One of the first departments to go under budget scrutiny is human resources. And while it may make sense to cut or pare down any expensive employee programs or events, businesses owners should be careful not to cut too many corners when it comes to HR. The costs of trying to manage human resources "on the cheap" by cutting essential staff and resources can be steep, resulting in increased compliance risks, reduced productivity and high employee turnover.
Increased Risks
Understanding the nuances of employment legislation is not an easy task. With over 150 different federal laws (like the Fair Labor Standards Act, Affordable Care Act, Family Medical Leave Act, Occupational Health & Safety Act, etc.) and even more state and local laws impacting employers and workers, ensuring that all policies and procedures are in compliance has never been more critical.
The graphic below outlines just a few of the most severe penalties and consequences of HR noncompliance: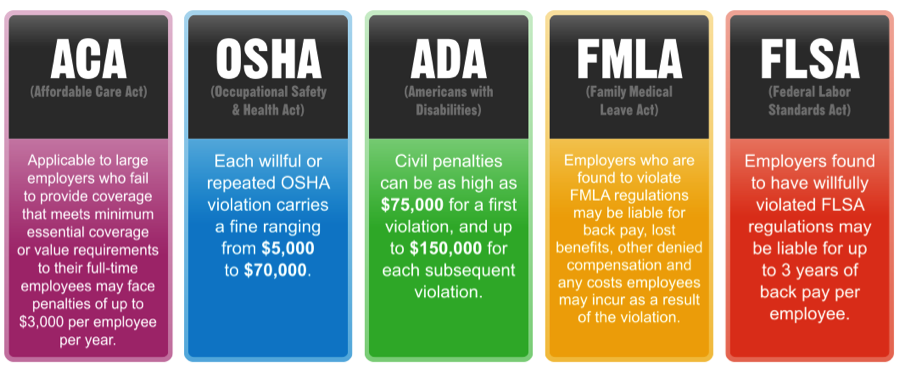 Reduced Productivity
The uncertainty and inconsistency created by trying to conduct human resources "on the cheap" can have a considerable impact on employee productivity. When organizations decide to try and cut corners in conducting essential HR functions (payroll and benefits administration, employee relations, etc.), the quality suffers and mistakes and errors become more frequent. When this happens, employees begin to lose faith in the stability and performance of their employer their own quality of work begins to wane. No employee feels motivated to perform their job duties at 100 percent productivity when they're not even sure their paycheck will reflect all of their efforts.
High Employee Turnover
When employees begin to see that their employer is trying to cut costs by cutting back on the quality of human resources services, often their first instinct is to begin looking for other opportunities elsewhere. And if an employee does make the decision to leave an organization, it's estimated that the total cost to replace them (including separation costs, replacement costs and productivity costs) can run upwards of 50 percent of the employee's annual salary, depending on their skill level and position. In fact, replacing a highly skilled or experienced worker performing a very specific or vital function (most often technical or executive-level employees) can cost an organization between 100-150 percent of the employee's salary.
Although cutting back may be a necessary consequence of a downturn in the local or national economy, organizations should think twice about trying to do HR "on the cheap." Fortunately for business owners and executives facing these difficult decisions, there's an alternative cutting corners or skimping on essential HR functions. By outsourcing some or all of their human resources functions to an external partner like a professional employer organization (PEO) or HR outsourcing firm, businesses can provide high-quality HR services to their employees, often at a significantly lower cost than if they tried to provide the same services in-house.
These third-party human resources providers employ teams of experienced HR professionals that understand the intricacies of HR best practices and can ensure that a business' policies, procedures and practices are in compliance with all applicable federal, state and local rules and regulations. Allowing a PEO or HR outsourcing firm to take on and manage everyday HR and administrative functions like HR compliance, payroll administration, employee benefits and workplace safety can help organizations cut back on costs without cutting corners and suffering the side effects of increased noncompliance risks, reduced employee productivity and high rates of employee turnover.
G&A Partners is one of the nation's leading professional employer organizations (PEO) and HR outsourcing providers. With over 20 years of experience in helping entrepreneurs grow their businesses, take better care of their employees and enjoy a higher quality of life, G&A alleviates the burden of tedious administrative tasks and allows business owners to focus their time, talent and energy on growing their company.